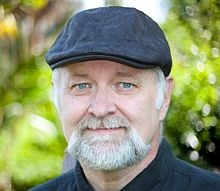 Hollywood, CA (PRWEB) December 10, 2013
The Writers of the Future Contest was initiated nearly thirty years ago by L. Ron Hubbard to help discover new talent in the field of science fiction and fantasy. Over the decades, hundreds of winners have gone on to critical acclaim, twelve winners having become New York Times bestselling authors. And over the years, Dave Wolverton has taught dozens of new authors in the contest workshop and in his own workshops, who afterward went on to success, including such #1 New York Times Bestsellers as Brandon Sanderson (Wheel of Time), Brandon Mull (Fablehaven), Stephenie Meyer (Twilight) and James Dashner (The Mazer Runner).
In 1987, Dave Wolverton was one of the early Writers of the Future Contest winners. winning the Gold Award for Best Short Story of the Year. And as such, he was mentored by then Contest coordinating judge Algis Budrys, using Hubbard's essays on writing (an essential ingredient of the now-famous Writers of the Future workshop). Immediately following his win, he signed a three-novel contract with Bantam Books. To date he has penned dozens of novels as Dave Wolverton in the science fiction genre, and as David Farland in fantasy.
Throughout his career he has won numerous awards, including the Philip K. Dick Memorial Special Award for "Best Novel in the English Language," the Whitney Award for "Best Novel of the Year," and the International Book Award for "Best Young Adult Novel of the Year." He has hit the New York Times Bestseller list numerous times, and in 1999 set the Guinness Record for the world's largest single-author, single-book signing.
As Coordinating Judge for the Writers of the Future Contest, Wolverton pays it forward as he reads Contest entries and selects the finalists, semi-finalists and Honorable Mentions. In addition he edits the annual L. Ron Hubbard Presents the Writers and Illustrators of the Future anthology and instructs the winning authors at the annual winners workshop every year with co-judge Tim Powers (On Stranger Tides).
To learn more, including details on how to enter the contests, visit the website at http://www.writersofthefuture.com