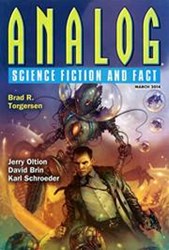 I've got cover prominence... alongside David Brin no less. Jerry Oltion and Karl Schroeder are on the cover too!
Hollywood, CA (PRWEB) December 13, 2013
Brad Torgersen will see his next short story published in "Analog" in the March 2014 issue. The story "Life Flight" will appear on the cover. Brad is still pinching himself and stated, "I've got cover prominence... alongside David Brin no less. Jerry Oltion and Karl Schroeder are on the cover too!" This is Brad's eighth story published by the magazine.
Brad also saw his first collection of short stories, "Lights in the Deep" published with WordFire Press (WFP) earlier this year. He will also see 2 more books published before "Life Flight" releases.
It all started when Brad was awarded at the 26th Annual L. Ron Hubbard Achievement awards held in Hollywood, California in 2010 as a Writers of the Future contest winner. He has been steadily published since. Within a couple of months of the ceremony, Brad had his second short story in print, and has seen over 20 publications of his shorts since that time.
Brad came out of the gate and received Hugo, Nebula and Campbell award nominations within 2 years of going professional. "This is highly unusual", David Farland, coordinating judge of the contest stated. "There are no more than a handful of authors that can claim that accomplishment."
The Writers of the Future contests was initiated by L. Ron Hubbard in 1983 shortly after returning to the field of science fiction with his bestseller Battlefield Earth. Throughout the Contests' 30 year history, 348 writers and 276 illustrators have been recognized as winners. They've gone on to publish over 700 novels and 3,500 short stories as well as hundreds of thousands of published illustrations and sfx art for 31 major motion pictures. Former Writers of the Future Contest winners listed on the New York Times best-seller's list include: Jo Beverley, Nancy Farmer, Karen Joy Fowler, Sean Williams, Dave Wolverton aka David Farland, Patrick Rothfuss, Lisa Smedman, Tim Myers, Tobias S. Buckell, Eric Flint, Dean Wesley Smith and Elizabeth Wein.
For more information on the Writers and Illustrators of the Future contest, go to http://www.writersofthefuture.com.