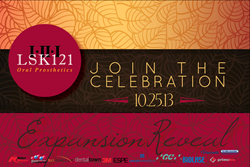 Celebrate the successes of the dental community, progress of the dental profession, and achievements of the dental professional, in a night showcasing the advancements of LSK121.
Naperville, IL (PRWEB) September 25, 2013
This event will display the new renovation and 200% expansion of LSK121 Oral Prosthetics Lab. This reveal is to promote the continued education of dental professionals, appreciate the developments of the dental field and celebrate the achievements of the dental community.
Attendees consist of active professionals of the dental field including Doctors and Staff. The night will host a ribbon cutting ceremony with Naperville's Mayor and Chamber of Commerce. There will be a two-credit Continuing Education Course sponsored by Biohorizons, and presented by Prosthodontist Joe Caruso DDS, MS, FICD, FACD. Lectures will be led by Lab Owner and internationally renowned ceramist, Luke Kahng CDT and by Lab Manager Pete Vourazeris CDT. Along with facility tours, a small-scale tradeshow will take place accompanied with booths sponsored by 3M, Amann Girrbach, Biohorizons, Biolase, Bisco, Camlog, Dental Towne, GC, Nobel Biocare, Orascoptic, Primotec, Office Connection, Renfert, Sebert Landscaping, Henry Schein and Wagner Precision Rotary Instruments. Entertainment for the night will feature wine tasting, relaxation sessions lead by a licensed masseuse, dinner, cocktails and multiple raffle opportunities with prizes donated by both sponsors and LSK121. For more information, visit our website or contact Nicole at media(at)lsk121(dot)com.
About LSK121:
LSK121's provides leading edge, hands-on seminars and live demonstrations to foster the continuing education of dental professionals. LSK121offers an all-in-one lab and education center dental professionals can trust with all their dental lab needs. One lab. One resource. Ultimate solution. For more information and to RSVP for the LSK121 open house reveal event, visit lsk121.com.