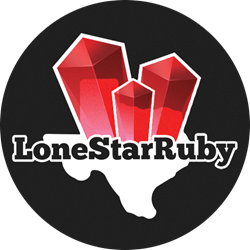 This was the first time the LoneStarRuby Conference offered a free, open-to-the-public training session and it was a triumphant success.
Austin, TX (PRWEB) August 01, 2013
Though it's been around longer than Java, Ruby is a programming language with plenty of current tech fervor. With its open source access and focus on flexibility, it's an attractive option both for brand new coders and startups, as well as innovative teams at tech giants. And its impact on innovation was nowhere more apparent than at the LoneStarRuby Conference 2013, held in Austin, Texas in July.
"Though our mission at the LoneStarRuby Foundation is to foster and facilitate sharing and learning among the Texas Ruby community, we were thrilled to get the international roster of speakers we did at this year's conference," says Lance Vaughn, President of the Texas-based nonprofit LoneStarRuby Foundation, and Founder/CEO of CabForward, who sponsored and helped organize the Conference.
Regarded as the Foundation's most successful Conference to date, the speaker lineup included the likes of coding/podcasting legends the Ruby Rogues; Ashe Dryden, thought leader on cultural diversity in programming; longtime Ruby coder and champion Dave Thomas; and Ruby developer Sarah Mei, who organized a free, open-to-the-public RailsBridge programming training workshop, sponsored by Rackspace.
"RailsBridge teaches free Ruby on Rails web development workshops all over the country, and with their mission on increased inclusivity in open source and tech companies, they were a natural fit for our conference," says Vaughn. "This was the first time the conference offered a free, open-to-the-public training session and it was a triumphant success."
A hub for Ruby developers, companies who use Ruby, and individuals who want to learn Ruby, the LoneStarRuby Conference annually attracts large audiences. But this year's agenda made the Conference the best-attended yet, featuring a full day of web development training in addition to RailsBridge, talks on topics ranging from the practical (code quality) to the provocative (big data and why no one will need to make a mistake ever again), and – because Ruby is known as "the language of the cloud" – a cloud panel that pitted five different cloud platform providers against each other to argue why their platform offered the best features for hosting Ruby apps.
A final highlight for the conference was the announcement that in 2014, there will be no conference at all.
Committed to educational outreach, the LoneStarRuby Foundation aims to increase its development training to underserved communities, giving underprivileged children and adults the coding tools they need to radically change their career potential. As a result, 2014 will be devoted to workshops in these areas, rather than continuing the tradition of a single, annual conference.
"I like to say that instead of one conference, we're going to have several – and they'll all look a bit different," says Vaughn. "2013 won't be our last LoneStarRuby Conference aimed at a global audience. We're just lifting our eyes to the horizon, and like the Ruby Language, evolving to meet the changing needs of our Community."
###
To schedule an interview or to receive more information, contact Larry Vaughn at info(at)lonestarruby(dot)org. Visit lonestarruby.org for more information. Follow @LoneStarRuby on Twitter.