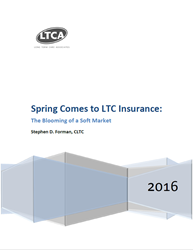 These changes signal the re-emergence of a soft market, news which the LTC community will greet like the welcome return of Spring.
Bellevue, Washington (PRWEB) May 03, 2016
Although the terms "hard market" and "soft market" are more commonly used to describe the cycles which recur in property and casualty insurance (P&C), they can extend to many lines, including long term care insurance (LTC). A number of seemingly-unrelated changes, documented in a new report from Long Term Care Associates, Inc. (LTCA) titled, "Spring Comes to LTC Insurance: The Blooming of a Soft Market," now reveal themselves to be signs of a soft market, whose re-emergence will be welcomed like the return of Spring within the embattled LTC community.
Author of the report, Stephen D. Forman, LTCA senior vice president, observed, "The knee-jerk reaction will be to read the headline and dismiss our findings out-of-hand. I would urge any doubters to first download and read the white paper for themselves. No one wants to miss a trend."
In general, market cycles last between two and ten years, and are identified by the following changes:

Tougher underwriting > Easier underwriting
Reduced capacity > Increased capacity
Fewer competitors > More competitors
Higher premiums > Lower premiums
Restricted coverage > Broader coverage
Similar to the levers of supply and demand, these tools operate as gas pedal and brake, regulating the insurers' appetite for new business. Accordingly, a hard market can be thought of as a seller's market, while a soft market is for buyers. In LTC, as the pool of suitable customers has shrunk and long term care insurance sales have dipped to historic lows, companies have exhibited a concerted reaction to win new clients.
Forman continued, "Nothing in the new report contradicts the economic evolution of the past decade. Just as water seeks its own level, the number of insurance sellers responds to the number of buyers, with some target markets heavily saturated, and others barely touched. As the remaining competitors seek to broaden their reach into new markets, a very hard market starts to thaw.
Best known as one of the nation's pioneering long term care insurance marketing organizations, LTCA is now home to "The Voice of Long Term Care" Stephen D. Forman. While acknowledging the report's argument will be viewed as counter-intuitive, Forman nonetheless urges consumers and agents alike to take advantage of this cycle before it ebbs.
About LTCA
With roots dating back to 1972, Long Term Care Associates, Inc. (LTCA) has now entered its 5th decade focused exclusively in the LTC solutions marketplace. Headquartered in Bellevue, WA, the company is proud to serve over five million members of sponsoring organizations, and count the claim payments to its clientele in the tens of millions of dollars.