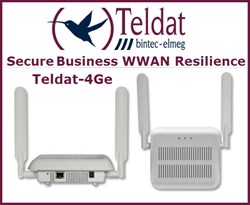 Companies cannot allow their service to be disrupted by unplanned WAN outages; otherwise the consequences can be severe.
Tres Cantos (Madrid) , Spain (PRWEB) November 05, 2013
Business WAN resilience is vital for any type of enterprise. From small and medium sized companies to large corporations. Some years back, it was only large enterprises who installed expensive disaster recovery plans for their mission critical data as a backup scenario. However, this is no longer the case. More and more businesses now rely on being connected to the WAN 24 hours, 7 days a week, which means that failover is essential.
Companies cannot allow their service to be disrupted by unplanned WAN outages; otherwise the consequences can be severe.
These consequences start from losing WAN connectivity with your own company sites and offices to being disconnected from clients and suppliers or disrupting telephony services at the branch if relying on telephony over IP. Many more costs exist than just those of the lost business whilst the outage and networks are down. There are also the lost business opportunities. Client satisfaction can easily drop due to a simple WAN outage and as a result competitive edge or product satisfaction can suddenly disappear. All this without going into the internal problems of employee frustration and dissatisfaction, if they cannot conduct their jobs correctly.
Teldat solves the market requirement for WAN backup with the its new Teldat-4Ge. It is a device that allows standard router scenarios in any type of enterprise to set up a failover and backup connection to ever more reliable and wider broadband cellular networks, 4G and LTE. Indeed, with the current level of 4G / LTE networks, using wireless WAN for backup and failover is clearly an advantage to what was used before, when wired networks were simply duplicated, whether via ISDN, DSL or any other. Wireless WAN directly eliminates the most obvious disadvantages of duplicating wired networks for backup. Firstly, if the problem of the outage is in the carrier's cable itself, backup via duplicated land line is of no use, because both lines would go down.Secondly, duplicating wired WAN entails huge costs, resources and inconveniences of installing meters of extra cable.
Wireless WAN eliminates the above mentioned disadvantages of the fixed line scenario by firstly using an independent and quick link onto the network. Wireless connectivity also entails lower costs, as the contract with telecommunications carrier is more economical.
However, there are various ways of using 4G / LTE for backup and not all are as effective as the Teldat-4Ge. The Teldat device offers the user many advantages. It works as an "external interface" to the currently installed main line fixed WAN router, whether this is a Teldat router or of another brand. This is probably the point which most opens up the market for the Teldat-4Ge. Moreover, as it is an external interface for the currently installed fixed WAN router, it does not need additional management, as it works on the tool currently used by the enterprise. The Teldat-4Ge failover device does not need to be installed near the fixed WAN router, which is a huge advantage. These routers tend to be installed in data rooms or data closets were wireless 4G / LTE connectivity is not sufficient. It can be placed wherever the wireless WAN signal is strongest and then easily connected to main line router via the LAN network and it takes advantage of the LAN to obtain Power over Ethernet (PoE) as its power supply. Hence the Teldat-4Ge can be installed even on different floors of a building to the main line WAN router. A distance of 150 meters between the fixed WAN router and the Teldat-4Ge via the LAN cable still gives a loss of zero decibels!
One must also take note that the Teldat-4Ge must never be compared to a low market router. This is a device specifically designed to give small and medium size companies, as well as large corporations, backup over the wireless WAN. So much so, that it is used in the most demanding markets such as financial institutions and public administrations.
The Teldat-4Ge can actually be converted into a router if the user desires, via license. In this case it would carry out the backup function in the same way as explained above, as well as working as a fully advanced IP router, just as the rest of the Teldat routers in the product portfolio. This is achieved by using the Teldat Internetworking Software (CIT); a complete suite of IP networking protocols, QoS policies, VPN security and firewall features and IT professional-grade router management tools.
Marce Gil, the Business Line Manager for Corporate Routers at Teldat said "Teldat-4Ge shows how Teldat is working closely with its customers to create innovative products, totally focused to their specific requirements. With the Teldat-4Ge, customers get cellular backup in an easy, non-intrusive and successful manner, where more "traditional" solutions have not succeeded".
For more technical details and access to the please visit the Teldat-4Ge web page.
About Teldat
Teldat Group is a leading globally operating European technology holding that manufactures and commercializes advanced Internetworking platforms for corporate environments. During Teldat's more than twenty five years of experience as a telecommunications provider, more than 250,000 devices have been installed in 800 networks for some of the most demanding carriers and multinational corporations, including markets such as banking and finance, utility providers, transport, retails and government institutions.
Teldat is present in more than 35 countries across the globe, with Teldat offices in countries such as USA, Germany, Mexico and China, among others and expanding.
For more information please visit http://www.teldat.com.