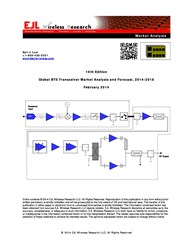 Salem, NH (PRWEB) February 20, 2014
The global base transmitting station (BTS) transceiver (TRx) market grew by 87% in units in 2013 and was the most ever recorded, according to the latest report from EJL Wireless Research titled "Global BTS Transceiver Market Analysis and Forecast, 10th Edition, 2013-2018." "The incredible growth in 2013 eclipsed the prior record levels set in 2010. We expected Huawei to remain the leading supplier but were surprised by our findings that ZTE had climbed two positions to number two for the first time," says founder and President, Earl Lum. The report provides a unique perspective on the global shipments and demand for base station equipment covering all air interface standards and frequencies and major OEMs including Alcatel-Lucent, Ericsson, Huawei Technologies, Nokia Solutions Networks, Samsung Electronics and ZTE.
Some key and notable facts from the analysis include:
*LTE-FDD and LTE-TDD captured 75% of total shipments
*Overall LTE shipments increased by 335% year over year
*LTE-TDD shipments were greater than LTE-FDD shipments
*Chinese vendors captured 62% of total market shipments
"LTE shipments for China Mobile and China Telecom accounted for a substantial portion of the overall market. The deployments in China are expected to continue to drive the overall market through 2016. We believe that Band 4, Bands 2/25, Band 12/13, Band 26, Band 29 and Band 30 will drive demand in North America. Band 20, Band 3 and Band 7 products will drive European demand while Band 28, Band 3, Band 7 will drive demand in Asia Pacific. We are encouraged by the recent 1800MHz spectrum auction results in India for LTE re-farming and deployment and believe that the market in India is poised for a comeback" says Lum.
Some key predictions from EJL Wireless Research LLC for 2014:
*Global BTS LTE TRx shipments are expected to remain the largest category through the forecasted period
*Global BTS W-CDMA/HSPA TRx shipments are expected to decline by 33%
*Global BTS CDMA TRx shipments are expected to decline by 66%
*Global BTS GSM/EDGE TRx shipments are expected to decline by 51%
The top suppliers for overall base station transceiver shipments as well as by air interface standards for 2013 were:
Overall #1 TRx Supplier: Huawei Technologies
Overall #1 GSM TRx Supplier: Huawei Technologies
Overall #1 W-CDMA TRx Supplier: Huawei Technologies
Overall #1 CDMA TRx Supplier: Huawei Technologies
Overall #1 LTE TRx Supplier: Huawei Technologies
The report is currently available for purchase and information can be downloaded at http://www.ejlwireless.com.
About EJL Wireless Research LLC
EJL Wireless Research LLC provides proprietary, accurate and cutting-edge market analysis and consulting services on the wireless technology ecosystem and defense and aerospace industries. The firm's wireless infrastructure research division focuses on all vertical elements of the wireless ecosystem including mobile subscribers, mobile operators, mobile handsets, mobile infrastructure and mobile content. In addition, the firm provides analysis across horizontal technology suppliers including RF semiconductor materials, RF semiconductor/components, subsystems and OEMs. Similarly, the defense and aerospace division focuses its efforts on the ecosystem supporting UAV and airborne platforms and subsystems. Our goal is to provide our clients with mission critical market analysis and information.
EJL Wireless Research LLC believes it has a corporate responsibility, both local and international, in giving back to the community. Please visit our website for more information about the charitable organizations it supports at: http://www.ejlwireless.com/corporate_responsibility.html.
EJL Wireless Research LLC is managed by Earl Lum. Mr. Lum has 20 years of experience within the wireless industry including 8 years as an Equity Research Analyst on Wall Street covering the global wireless industry. The company is headquartered in Salem, NH. For more information about EJL Wireless Research, please visit the company's websites at http://www.ejlwireless.com, http://www.ejldefense.com or our weblog at http://ejlwireless.wordpress.com.