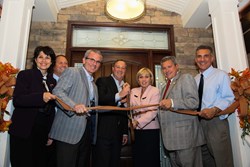 There is no better indication of this small business success than the multi-generational Somerville Aluminum.
Branchburg, NJ (PRWEB) October 17, 2013
There was more to be celebrated than just an impressive new showroom for the central New Jersey home remodeling company. In just four and a half winter months, Somerville Aluminum transformed a 15,000 foot building into a showroom, design center, office complex and warehouse utilizing local building contractors and service providers, giving a boost to local businesses during a time of year typically slow for work. Aided by the local Branchburg Building Department, who guided the remodeling contractor through the complex process of demolition to retail opening in such a short amount of time. Further assisted by the help of state and federal officials to secure Small Business Association support. Which gave them the ability to increase their workforce by over 20%, all with the goal of creating a rewarding experience for their customers and a more comfortable home for their hard-working, loyal employees.
On September 26, 2013, a reception to celebrate this impressive achievement was attended by over 100 people, including Lt. Governor Kim Guadagno, Senator Kip Bateman, Assemblymen Jack Ciattarelli and Donna Simon, Mike Kerwin and other members of the Somerset County Business Partnership, Branchburg Mayor Jim Leonard, long-time customers, vendors, friends and family. It was an emotional afternoon, and obvious to all that the current owners, brothers-in-law Gary Shiman and David Gropper were humbled and deeply touched by the support in the room.
It was three-generations in the making, their vision and dream stood before them. What began as an aluminum storm window company has grown into one of the largest, full-service home remodeling companies in the state of NJ.
"This company was founded based on the beliefs of Max Gropper, that every job is done with a high level of integrity and a good, old-fashioned work ethic. These simple principals have been the foundation and driving force carried through to his son, Jeff Gropper and his grandson, David Gropper and myself today," an emotional Shiman stated. He went on to thank the local building officials, who, Shiman felt, made it all possible.
The company announced that it would donate 2% of gross sales during the month of October, typically their highest volume month of the year, to the Hurricane Sandy New Jersey Relief Fund. The Fund, chaired by First Lady of NJ Mary Pat Christie, raises and distributes money to organizations that support the recovery and rebuilding efforts of NJ communities impacted by the storm. This month marks the one-year anniversary of the devastating hurricane, with many New Jersey towns still struggling to recover.
Lt. Governor Guadagno applauded Somerville Aluminum and indicated just how important small businesses are to the state. "Small businesses represent over 98% of all New Jersey employers," said Lt. Governor Guadagno. "There is no better indication of this small business success than the multi-generational Somerville Aluminum. Through their state-of-the-art new showroom, Somerville Aluminum will be able to positively contribute to New Jersey's economy while providing jobs for the Garden State's able workforce." The Lt. Governor went on to speak about pro-business policies put into place by the Christie Administration and her mission to ease regulations and eliminate "red-tape" making NJ small business-friendly once again.
Small business is alive and well in New Jersey and NJ can and does make it happen. One look at Somerville Aluminum's new complex is a shining example of the possibilities that exist in the state for small business success.
Go with the Pro: Somerville Aluminum is the area's largest full service home remodeling company and has built a reputation for reliability, expertise and trust with core family values lacing through three generations of service to Central Jersey homeowners.
To learn more about the Somerville Aluminum Home Remodeling and Design Team, please visit http://www.somervillealuminum.com or call 908-725-8401.
To donate to the Hurricane Sandy NJ Relief Fund, please visit: http://www.sandynjrelieffund.org
Contact:
Jodi Mayo Alessandri
MG Media, LLC
856 US Hwy 206, Suite B11
Hillsborough, NJ 08844
908-874-9200 x111