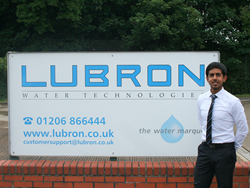 Lubron UK is very successful already, but with our in-house experience, knowledge and expertise we should be the name everyone in the building services thinks of first when they are considering bespoke water treatment solutions
Colchester,Essex (PRWEB UK) 18 August 2015
Water treatment specialist, Lubron has appointed Greg da Santos as its specialist in the building services sector.
Already a market leader in healthcare and the food and beverage industry, Lubron plans to expand its specialist provision to cater for growing demand from the building services sector. Lubron's new Building Services Engineer, Greg da Santos is spearheading a campaign to promote the company's capabilities, particularly within the building services sector.
"Lubron UK is very successful already, but with our in-house experience, knowledge and expertise we should be the name everyone in the building services thinks of first when they are considering bespoke water treatment solutions," says Greg. "As part of our brand development, we want to demonstrate our extensive knowledge of industrial water treatment design, and how to provide cost-effective solutions that meet current regulations. Working with engineering consultants and contractors, we can provide integrated solutions that work seamlessly with peripheral equipment and building management systems.
We provide guidance on water-related building regulations and legislation surrounding water-borne bacteria and our bespoke solutions are built to the high specifications that are synonymous with the Lubron name."
Greg joins Lubron with practical experience in water treatment solutions, supported by excellent academic qualifications in Mechanical Engineering, along with bucket loads of enthusiasm and drive. "I'm really excited to be so involved in the Lubron brand development and implementation of our strategy for expansion within the building services sector," says Greg, "we have the expertise and water treatment solutions to lead the UK market and can provide a valuable resource to this fast-growing industry."