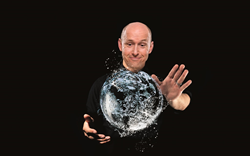 The exhibition is an excellent opportunity for us to show decision makers within the public sector that Lubron isn't just a provider of well-designed and reliable equipment
(PRWEB UK) 31 October 2016
Showcasing its water treatment technology and expertise, Lubron UK will be amongst the leading private sector providers at Procurex Live Scotland 2016, Scotland's Annual Pan Public Sector Procurement Festival, taking place at SECC, Glasgow, on 9th November.
Procurex Live is officially supported by the Scottish Government, and provides organisations with unique opportunities to engage directly with the public sector buying community with access to key decision makers across this important and valuable marketplace.
Lubron UK has been providing water treatment solutions and consultancy for twenty years, and is part of the Lubron Group, a global leader in the supply of water treatment service and equipment. Lubron's team of scientists, engineers and project managers have been designing, manufacturing, installing and servicing industry compliant, bespoke water treatment solutions for clients in sectors including healthcare, building services, food and beverage production, catering and hospitality since 1996.
Stewart Campbell, Lubron's Business Manager, Scotland, who will be heading the Lubron team on Stand 113, at the exhibition, says: "Lubron has rebranded this year and the exhibition is an excellent opportunity for us to show decision makers within the public sector that Lubron isn't just a provider of well-designed and reliable equipment. We are also experts in our field, and we can demonstrate that expertise by ensuring that our customers have policies and procedures in place to maintain legislative and regulatory compliance, by servicing and maintaining our competitors' equipment and by providing solutions to all clean water problems."
For further information about Lubron and its services, visit http://www.lubron.co.uk