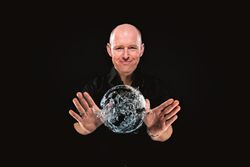 Our new branding isn't just a change in image, it's a whole new identity, running through every Lubron vein, straight to the heart of our message
Colchester, Essex (PRWEB UK) 27 June 2016
Lubron UK, in conjunction with its European counterparts, is future-proofing its corporate identity with a rebrand. The rebrand will see new branding and imagery, along with a new website and a corporate identity that will be visible in every aspect of the company, from correspondence and marketing materials to its vehicle fleet.
Rob Braams, the Lubron group' s Managing Director, explains: "Year on year, Lubron holds its strong European market position, but we wanted to unify across the company, with an identical message and themes. At the same time, we wanted a sharper identity that would define and portray our professionalism and our expertise".
"Our new branding isn't just a change in image, it's a whole new identity, running through every Lubron vein, straight to the heart of our message: We are more than just a water treatment solution. We design, engineer and deliver the solution. Hence, our key messaging of shaping water to needs," says Rob.
Lubron UK will roll out the new brand over the coming months with support from a dedicated marketing team. Mark Hadaway, Lubron UK Sales Manager, says, "This has been a significant project in planning, and will continue to be in delivery, but our aim is to complete the rebrand, including the new website early in 2017. It's very exciting and we are delighted with the results, which really highlight Lubron's expertise and position as a market leader across so many sectors."
For more information about Lubron UK call 01206 866444 or visit http://www.lubron.co.uk