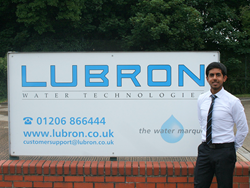 With the in-house experience, knowledge and expertise, we will be pushing our brand and demonstrating why we should be the building sector's first choice when it comes to industrial water treatment design
Colchester,Essex (PRWEB UK) 21 September 2015
Lubron UK has announced the launch of a dedicated Building Services Team in the next stage of its sector growth campaign. Greg da Santos is heading the team and has the knowledge and qualifications to drive forward the campaign to promote the company's capabilities, particularly within the building services sector. With a Mechanical Engineering degree and experience in the water treatment and technology field, Greg understands the construction industry and the challenges it faces.
Greg and his team will be heading for the Midlands in October to exhibit at HVAC 2015, part of the UK Construction Week Exhibition. The newly launched UK Construction Week (6-11 October 2015), spans five halls of the NEC, and will include nine shows specific to the UK construction industry. Eight trade shows, including HVAC, are being held between 6th and 8th October, with Grand Designs Live being open to the public from 8th to 11th October.
Water treatment specialist, Lubron, is already a market leader in healthcare and the food and beverage industry, and plans to expand its specialist provision to cater for growing demand from the building services sector. Managing Director, Joe Austin, explains, "Lubron is proud to be a fusion of scientists, engineers and project managers, who deliver bespoke water treatment solutions for customers across a broad spectrum of sectors. We are good at what we do, but we need to be more proactive in our marketing. With the in-house experience, knowledge and expertise, we will be pushing our brand and demonstrating why we should be the building sector's first choice when it comes to industrial water treatment design."
Greg da Santos says, "The building services sector is a fast-growing industry, with 2014 producing the industry's biggest rise in output for over twenty-five years(1), but increased legislation and regulations are making it more challenging. Here at Lubron, we do all that we can to simplify the process by keeping up to date with legislation surrounding water-borne bacteria and a building's energy consumption. We provide our clients with guidance on water-related building regulations, and work with them to produce the most cost effective solutions. From reverse osmosis, water filtration, de-ionisation, and water softening to sanitisation and disinfection we offer a turn-key service as a solution to all building services challenges, however complex. On a personal level, I am looking forward to leading my team and establishing Lubron UK as the superlative water treatment provider in the Building Services Sector; attending HVAC will provide us with an excellent opportunity to showcase our capabilities."
(1) According to the House of Commons Briefing Paper 01432 6th August 2015.