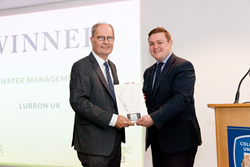 We take much of what we do as a company for granted and it is only when we view it from a 'non-scientist' perspective that we see how valued our work is
Colchester, Essex (PRWEB UK) 4 December 2015
The Lubron UK team were delighted to win an award at the recent Green Essex Awards. The awards are designed to recognise and reward companies, organisations, community projects, education establishments and charities within the county of Essex for their efforts to reduce their carbon footprints and improve environmental performance. Organisers hope the awards will also act as a link between businesses and the community, who have a shared responsibility for the environment. Bures-based sustainable design agency Zero Above joined forces with Essex publisher and event organiser Business Connected and PR Company The Write Impression to launch the inaugural Green Essex Awards programme.
Lubron UK entered the Water Management Category and based its submission on the benefits of its reverse osmosis equipment. Highlighting the direct impact on the local and global environment by enabling the use of water that would not be viable if left untreated, without the addition of chemicals. Lubron UK was established in 1996, and is part of the Lubron Group, the European market leader in water treatment for clean water applications. A fusion of scientists and engineers who recognised the need for better quality water treatment and management, the company started in Holland over 30 years ago, and has branches in the UK, Netherlands, Germany and Belgium. With clients in sectors including building services, clinical and healthcare, food and beverage production, and catering and hospitality it uses a range of processes and systems for water treatment plant to remove impurities and contaminants in water.
Joe Austin, Lubron UK's MD, and the team collected their Award Plaque at the award ceremony, which took place on Friday 23rd October 2015 at a Business Connected breakfast networking event at the Weston Homes Stadium, Colchester. Joe says, "It was great to be part of the first Green Essex awards, meeting representatives from other companies who are working hard to improve the environment, and having that effort acknowledged by the judges. We take much of what we do as a company for granted and it is only when we view it from a 'non-scientist' perspective that we see how valued our work is."
For more information visit: http://www.lubron.co.uk or call 01206 866444.