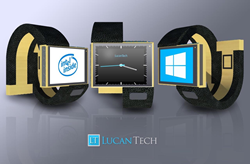 The First Smartwatch with The Power of Intel, The Compatibility of Microsoft, and the Innovation of LucanTech
Greeley, CO (PRWEB) July 28, 2015
Lucan Technologies, Inc., proudly announces the launch of their newly re-designed cellular SmartWatch. The LUCAN™ Smartwatch is an exciting and innovative wearable from the Colorado based technology start-up. The wearable's styling and modular design has been engineered to provide consumers flexibility and innovative solutions in a connected world. The wearable is unique as it is the first smartwatch in the industry to be Windows 10 ready and is Intel Inside.
A key component of the design is modularity. "Modularity offers several advantages", stated COO Tom Maynard. "The consumers have flexibility to change the configuration of their devices and keep up with the latest in technology through the addition of up-gradable modules and features. This extends the useful life of the wearable, and lessens the impact of e-waste. We will create many of our own attachments but we are excited to see what others create as we are an open platform."
Another exciting product feature is the complete digital wallet feature. "We have partnered with Omne Payments Inc. to enable our customers to use their watch to make payments via a traditional credit card reader and accept credit card payments using our credit card swipe module" said Erdogan. "Paired with a finger print reader, our smartwatch offers the most secure digital wallet yet!"
"We are also excited to offer standalone cellphone capability", said Erdogan. "The 4G capabilities of the wearable offers flexibility for the user to maintain connectivity without being tethered to their cellphone."
The innovative design of the feature-packed LUCAN™ Smartwatch supports a much needed convergence of wearables, cellular phones and Internet Of Things (IOT) devices.
In addition, the company offers a secure and intelligent online tool to help users manage and share their information via the LUCAN™ mYLife portal: "Users can, for instance, view and share their workout data with accountability partners, wellness information can be shared with healthcare providers, and spending patterns can be analyzed or shared for business reimbursement through their private mYLife portal" stated Erdogan.
"Our Mission is to improve the quality of life for the digital age consumers by producing innovative and uniquely customizable products for the best customer experience possible", said Erdogan. "We believe the LUCAN™ Smartwatch, which is first of many LucanTech products to come, offers a unique opportunity to make that a reality".
The Company is planning to offer the products for pre-sale in an Indiegogo campaign in September and hopes to make it available for the general public in early 2016.
Details of the products can be seen on the company website http://www.lucantech.com.
###
About LUCAN TECHNOLOGIES, INC. |
Lucan technologies, Inc., is a technology start-up dedicated to producing products and services aimed at inspiring and empowering people to manage their lives through technology. In order to support this vision, the company is developing the following products and services:
+ mYWatch - An elegant and feature rich cellular smartwatch intelligently designed and engineered to improve your quality of life.
+ mYLife A digital platform where users can view their information and engage with each other or qualified experts to improve the quality of their lives in one place.
+ mYShop A marketplace where users can buy, sell, or exchange devices, modules, or other tools to improve the quality of their lives in one place.
The Start-up intends to produce highly modular and re-usable products including but not limited to cellular phones, tablets, various IOT and wearable devices.
The founder, Murat Erdogan, has more than 18 years of industry and startup experience, including 10 years at Intel Corporation.
Details of the products can be seen on the company website http://www.lucantech.com.
Executive Contact |
Murat Erdogan, Founder and CEO
503-858-7599
murat.erdogan(at)lucantech(dot)com
http://www.lucantech.com