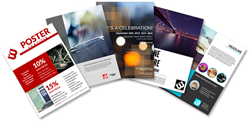 Our users recognize it for what it is: a game-changing application.
South Jordan , UT (PRWEB) June 27, 2015
On June 1st, 2015, Lucidpress registered its millionth user. Officially released in 2014, Lucidpress is an affordable online design solution that serves as an alternative to desktop programs like Microsoft Publisher and Adobe InDesign.
"We're very pleased with the dramatic growth of Lucidpress," said Vicky Thomas, product manager at Lucid Software. "Our users recognize it for what it is: a game-changing application."
The goal of Lucidpress is to democratize design with features like simple sharing and a drag-and-drop canvas. The application is praised by users and tech publications for being a convenient web-based tool. It was built to produce both print and digital documents, which sets it apart from other options.
Lucidpress is often used by small and medium businesses that need an inexpensive way to create marketing collateral. As a brochure maker, the program offers dozens of free templates. Crafted by Lucidpress's professional designers, these templates enable all employees, even those with no design experience, to quickly build brochures and pamphlets.
Lucidpress is also ideal for creating buzz around events and worthy causes. Its poster maker functionality allows any organization to make posters that can be embedded on websites or shared with a link. Plus, every Lucidpress template is optimized for printing.
While small businesses currently make up the majority of Lucidpress's 1 million users, that may change soon. "We're are beginning to roll out an enterprise version of Lucidpress tailored specifically for large organizations," said Karl Sun, CEO of Lucid Software. "This version of our product will include all the security and account control options that a large company requires. It's an exciting new step for us."
About Lucid Software:
Lucid Software is creating powerful cloud-based tools for the masses. Driving a new way of working, Lucid's lineup includes Lucidchart, the popular diagramming application used to create compelling and attractive visual communications, and Lucidpress, a recently launched publishing tool used to create print and digital content with ease. Founded in 2010 and based in Salt Lake City, Utah, Lucid Software has raised a $5M Series A from investors including Kickstart Seed Fund, Grayhawk Capital, and Peterson Ventures, and early seed funding from Google Ventures and 500 Startups.