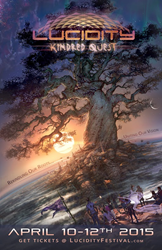 "Kindred Quest is an opportunity to learn from our human past: to reconnect with the earth, with community, with family, with tribe, to enrich our roots, deepen our interconnection, and strengthen our bonds." - Jonah Haas, Lucidity Co-Founder
Santa Barbara, CA (PRWEB) March 11, 2015
Lucidity will be hosting the educational Permaculture Action Course inspired by the work of permaculture designers and educators within the Lucidity Family. From Monday, April 6, 2015 ­to Thursday, April 9, 2015 at Santa Ynez's ­Live Oak Campground, ecological designer Erik Hjermstad​, creator of CobFest​, community organizer Ryan Rising​, Certified Teacher of Permaculture Loren Luyendyk​, architect Ray Cirino and Art Ludwig​, author of Water Storage and Create an Oasis with Greywater, will give a crash course in hands-­on, systems-­based techniques to help build and promote ecological living. This three-day course is a practical permaculture education and community building intensive, including: an Introduction to the Permaculture Design Process, Rainwater Harvesting and Earthworks, Natural Building and Appropriate Technology, Regenerative Tools and Techniques, Permaculture Gardening and Food Forestry, Soils and Composting, Applying Ecological Principles, Social Permaculture and Community Organizing Methods.
This intensive is followed by a Community Action Day on April 9th hosted by performance artist and social eco­preneur, The Polish Ambassador, to further advance the production company's core values of communal reciprocity and environmental responsibility. Permaculture Action Course participants are then invited to engage and assist an open­-to-the­-public volunteer force to transform 3 or 4 sites in Santa Barbara and Goleta for the benefit the local community.
Lucidity, set from April 10-12th, released its full lineup for its upcoming 2015 Festival, Kindred Quest and it's full of multi-genre goodness. Elephant Revival brings its beautiful combination of thoughtful lyrics and musings blended effortlessly into their Folk and Americana based musical sensibilities on the Alive stage. Thriftworks' signature style of loose beat structure and "Flylo-esque" arrangement style energizes the Lucid Stage with variety. Lineup also includes artists like Defunk, Ayla Nereo, David Starfire, Wildlight and The Human Experience, to name a few.
The theme of Lucidity Festival 2015 is Kindred Quest, which poses the question, "How do we live in this world in right relationship with ourselves, each other and the planet?"
As Lucidity Marketing Director and Co-Founder Jonah Haas states, "Kindred Quest is an opportunity to learn from our human past: to reconnect with the earth, with community, with family, with tribe, to enrich our roots, deepen our interconnection, and strengthen our bonds."
The Lucid Family is growing at a rapid rate. In four years the event has gone from 0 to nearly 92,000 online followers. The last two years saw festival participants coming from 32 different states and 10 different countries across four continents. The festival is selling out earlier and earlier each year, demonstrating a bursting demand in the growing movement of Transformational Festivals.
To buy tickets, go to http://www.2015.lucidityfestival.com/buy-tickets.
About Lucidity:
Lucidity Festival LLC is a collectively owned organization dedicated to creating Transformational experiences for individuals and communities; a production company, a creative lifestyle brand, and an interconnected community of friends and family. Its mission is to strengthen community through the fostering of the following values: Participation and immersion in the artistic process, Personal growth and global healing, Awake and aware consciousness, Environmental and social responsibility, Family fun and creative play, Communal reciprocity, and Transparency.
About The Polish Ambassador:
David Sugalski, aka The Polish Ambassador is an electronic musician and DJ from Oakland, California. Sugalski is a multi genre musician, producing styles including electro, breaks, hip-hop, dub, funk, chiptune, and glitchy IDM. The Polish Ambassador's fall 2014 Permaculture Action Tour brought together permaculture educators and community organizers to inspire and educate people about how they can make a shift towards a more sustainable and regenerative way of living, and channel this energy into local project builds in each of the cities visited.
About Keyframe-Entertainment:
Keyframe-Entertainment, an official sponsor of Lucidity Festival and The Polish Ambassador's Permaculture Tour, has just signed on as Associate Producer for the Permaculture Action Tour film. The film project will feature The Polish Ambassador's first nationwide Permaculture Action tour, covering over 9,000 miles to 33 cities, 19 states, from San Francisco to New York City. Keyframe-Entertainment is a media network that inspires, informs, and entertains through Transformational films, visionary projects, and Electronic Music. Keyframe produces, finances, and distributes cutting edge work in order to generate growth for its partners and strengthen community-building worldwide.