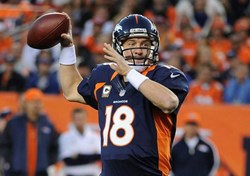 (PRWEB) October 18, 2013
Luck or Manning?
One is 24, the other is 37. That's a big age difference when it comes to the most important position on the football field. When the two players are that young and that old, there are factors involved. Experience, strength, stamina, and more, are all key elements that are included in determining who will win this game.
With the Broncos 6-0 in the AFC West, and the Colts 4-2 in the AFC South, and Peyton being the previous Indianapolis quarterback for 14 years, the game this Sunday between the two teams was already going to be big enough. Now there is enough hype to make this game absolutely huge.
THE HYPE
Just days before the intense matchup between these two Super Bowl hopeful teams, Indianapolis Colts owner Jim Irsay had some questionable comments about his former quarterback, Peyton Manning. Without directly saying it, Irsay pretty much blamed Manning for reaching the playoffs 11 times, but only coming out with one Super Bowl win. He also said that the team chose to release Peyton, because they wanted more than one Super Bowl ring. Was Irsay trying to personally attack Manning and get him riled up for the game? Or was the Colts owner just being honest? Either way, he got the media hype he was probably aiming for. All I have to say is that if the Colts lose to Manning, Irsay is going to feel a little silly for his comments. So, not only is Peyton probably excited to go into Indianapolis and tear apart his previous team, but Luck now has all the pressure on him to beat the man whose spot he took. Who will it be? Find out by purchasing your tickets at http://www.Ticketmonster.com.
THE GAME
So far this season the Indianapolis Colts have depended on their running game, as opposed to throwing. It is clear that they are a run first team, and pass when they have to. This type of play may have brought them success so far, but will not fly against the Denver Broncos' defense. If they allow Luck to do his thing and make plays, they will have a chance to win. Manning and the Broncos will be entering the game with the top offense in the league, averaging 476 yards a game. They also lead the NFL in passing yards and points per game at 44.2. AKA, they are pretty unstoppable. However, this game will be won by the better offense, as the Broncos have been allowing an astonishing 407.5 yards per game.
THE PLAYERS
LUCK vs. MANNING: Who is the better quarterback? The question will stand until Sunday night when they finally meet. Not only will Manning be back to Lucas Oil Stadium where he spend 14 of his NFL careers years, but the arguably best quarterback will finally meet the youngster who took his spot. The two had great first years with their respective teams, but is looking even better so far in 2013. If each keeps playing this well, they may find themselves up against each other in the AFC Championship Game. Luck may not be playing up to the Manning level just yet, but he has far succeeded expectations for this Colts team, and is doing better than his stellar rookie season. Looks like Luck has avoided the sophomore slump.
Tickets are still available to this AFC matchup. Broncos tickets and Colts tickets can be found at http://www.Ticketmonster.com, and at the best prices on the web. Fans do not want to miss one of the most anticipated games of the year, so purchase your football tickets today! After Irsay's comments and these two great quarterbacks meeting head to head, this is bound to be one of the best games of the year. Who will come out on top? Luck or Manning? Find out at http://www.Ticketmonster.com.