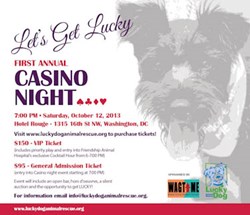 Lucky Dog Animal Rescue's Let's Get Lucky Casino Night is one of this year's don't-miss events for dog lovers!
Washington, DC (PRWEB) September 03, 2013
Lucky Dog Animal Rescue is now selling tickets to the organization's first annual "Lets Get Lucky" Casino Night. All proceeds from the event help rescue even more Lucky Dogs and Cats from high-kill shelters throughout the rural south.
Casino Night will be held at Hotel Rouge on October 12th from 7-10 p.m. Activities will include: craps, roulette, blackjack, Caribbean stud, the money wheel, a silent auction, and raffle. There will be an open bar and hors d'oeuvres served throughout the evening. Dress code is cocktail attire, and Wagtime, a DC doggie daycare, is sponsoring "valet barking" for those guests driving to the event.
"We are incredibly excited about our first Casino Night," said Mirah Horowitz, founder and executive director of Lucky Dog Animal Rescue said. "It's one of those rare opportunities to have an amazing night out on the town while helping save the lives of hundreds of dogs and cats who otherwise have no hope."
Lucky Dog Animal Rescue is a volunteer-run 501c3 non-profit organization that relies on the support of the community to help keep its mission going. Since its founding in 2009, Lucky Dog Animal Rescue has rescued over 5,000 animals from high-kill shelters in DC, Virginia, Maryland, and beyond.
Attendees must be over 21 and unfortunately, no dogs allowed this time around. Tickets are $95 for regular admission and $150 for V.I.P. Admission, which includes entry to Friendship Animal Hospital's Exclusive Cocktail Hour from 6-7 p.m. To purchase tickets, adopt a Lucky Dog or Cat, or to learn more about becoming a foster or volunteer, please visit http://www.luckydoganimalrescue.org.
This event is sponsored by: Wagtime, Friendship Hospital for Animals, Rover.com, Cantina Marina, and VCA SouthPaws Veterinary Specialists and Emergency Center. Sponsorship opportunities are still available.
About Lucky Dog Animal Rescue
Lucky Dog Animal Rescue is non-profit animal rescue organization dedicated to saving the lives of homeless animals in high-kill shelters and educating the community on responsible pet ownership. Lucky Dog Animal Rescue relies on a network of volunteers and fosters to facilitate adoptions and provide temporary homes for the dogs and cats available for adoption. Most Lucky Dogs are rescued from high-kill shelters in Virginia, West Virginia, North and South Carolina, and Puerto Rico. Once rescued, the Lucky Dogs live in home through the Washington, DC metro area, including Maryland and Virginia. To learn more about Lucky Dog Animal Rescue and to view the animals awaiting their forever-homes, please visit http://www.luckydoganimalrescue.com.