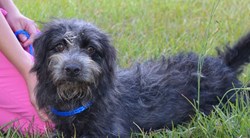 We were so thrilled to welcome our 1000th animal of 2013 this past weekend. This is quite an achievement for an organization with no facility and no physical location!
Washington, DC (PRWEB) October 17, 2013
Lucky Dog Animal Rescue (LDAR) is excited to announce that they rescued their 1000th animal of 2013 this past weekend. Waggle, a gorgeous terrier mix, came straight from a high kill shelter in South Carolina and into the arms of his loving forever home here. Waggle's family was able to take him home immediately upon his arrival in DC because they had already gone through LDAR's rigorous screening process.
LDAR's signature "preapproval process" enables adopters to take the steps necessary to be approved for adoption even before a particular dog arrives in the DC area. The LDAR volunteers then work with each "preapproved" adopter to find them the perfect match. Since its founding in 2009, LDAR has rescued over 5,800 animals from high-kill shelters.
"We are thrilled that we have been able to find forever homes for so many animals so far this year," said Mirah Horowitz, founder and executive director of LDAR. "We are fortunate to have a tremendous group of volunteers, fosters and boarding partners, all of whom are passionate about helping these animals get their second chance. "
Each week LDAR receives a transport of animals from shelters in Virginia, West Virginia, North and South Carolina, Puerto Rico and beyond. LDAR is a foster home-based organization with no facility of its own. The number of dogs LDAR can save is dependent on the number of foster homes available.
Every animal is unique and LDAR is committed to not just finding these animals a home - they work to find them the right home. LDAR's trained adoption coordinators not only screen potential adopters to approve them to adopt, but they also serve as "match-makers," ensuring that each adoptive family finds the perfect pet.
"We are able to rescue so many dogs from high kill shelters because we have a very robust preapproval process," Horowitz said. "We have adopters ready and waiting for many of our dogs and cats. And, the sooner these animals get adopted, the sooner we can save another dog or cat to take their place."
To adopt a Lucky Dog or Cat or to volunteer or become a foster visit http://www.luckydoganimalrescue.org.
About Lucky Dog Animal Rescue
Lucky Dog Animal Rescue is non-profit animal rescue organization dedicated to saving the lives of homeless animals in high-kill shelters and educating the community on responsible pet ownership. Lucky Dog Animal Rescue relies on a network of volunteers and fosters to facilitate adoptions and provide temporary homes for the dogs and cats available for adoption. Most Lucky Dogs are rescued from high-kill shelters in Virginia, West Virginia, North and South Carolina, and Puerto Rico. Once rescued, the Lucky Dogs live in home through the Washington, DC metro area, including Maryland and Virginia. To learn more about Lucky Dog Animal Rescue and to view the animals awaiting their forever-homes, please visit http://www.luckydoganimalrescue.org.