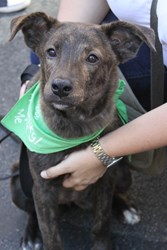 6,000 dogs and cats rescued since May of 2009. Truly an amazing accomplishment -- particularly for a rescue with no physical location!
Washington, DC (PRWEB) November 05, 2013
On November 1, 2013, Lucky Dog Animal Rescue (LDAR) welcomed its 6000th homeless dog to the DC area since its founding in 2009. Cato, lucky number 6000, was one of 45 dogs that LDAR transported out of high kill shelters to DC this past weekend.
Cato arrived in Washington, DC just in time for Home 4 the Holidays, a large pet adoption event on Saturday, November 2, at Reston Town Center. Cato and dozens of other Lucky Dogs attended Home 4 the Holidays in the hopes of meeting their forever families. LDAR is thrilled that Cato was one of 27 Lucky Dogs who found their forever homes on Saturday!
LDAR hosts at least one adoption event every weekend at different locations in the Washington, DC metro area. These events allow potential adopters to meet several Lucky Dogs at the same time and choose the perfect match. Same day adoptions are possible for adopters who have gone through the adoption process to become "pre-approved" and then come to the events to be matched with the perfect dog. This preapproval process is one reason LDAR is able to save -- and adopt out -- so many dogs.
"It's amazing to be surrounded by such dedicated volunteers," said Kristen Kloster, the Chief Operating Officer of LDAR. "6000 lives saved in just over 4 years is a tremendous milestone, especially when the organization has only 2 paid employees. Everyone else is a volunteer!"
Once a dog is brought into Lucky Dog, we gather information from the dog's foster family and others who interact with the dog to learn about the dog's personality, temperament and training. By getting to know our Lucky Dogs and potential adopters, we focus on making sure adoptions are successful for everyone.
"In the 4 years I've been with Lucky Dog Animal Rescue I've met dogs of all breeds, sizes and ages abandoned and mistreated, but at the hint of compassion, you can see in their eyes that they are so grateful and they know that their awful past is gone," Kloster said. "I am so grateful for every single person's dedication to saving these dogs."
To adopt a Lucky Dog or to learn more about becoming a foster or volunteer, please visit http://www.luckydoganimalrescue.org.
About Lucky Dog Animal Rescue
Lucky Dog Animal Rescue is non-profit animal rescue organization dedicated to saving the lives of homeless animals in high-kill shelters and educating the community on responsible pet ownership. Lucky Dog Animal Rescue relies on a network of volunteers and fosters to facilitate adoptions and provide temporary homes for the dogs and cats available for adoption. Most Lucky Dogs are rescued from high-kill shelters in Virginia, West Virginia, North Carolina and South Carolina. Once rescued, the Lucky Dogs live in home through the Washington, D.C. metro area, including Maryland and Virginia. To learn more about Lucky Dog Animal Rescue and to view the animals awaiting their forever-homes, please visit http://www.luckydoganimalrescue.org.