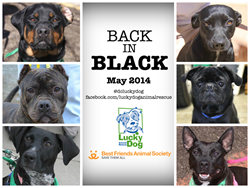 Washington, DC (PRWEB) May 27, 2014
Lucky Dog Animal Rescue promotes the adoption of black animals, a traditionally overlooked group, between May 1 and May 31, 2014, as part of the Back in Black promotion sponsored by national animal welfare leader Best Friends Animal Society®. Lucky Dog Animal Rescue joins more than 175 local animal rescue groups and municipal shelters across the country showcasing adorable, lovable cats, dogs, kittens and puppies for adoption.
"Black dogs and cats are often passed over for their more colorful siblings," said Mirah Horowitz, founder and executive director of Lucky Dog Animal Rescue. "Yet, as the owner of two black dogs, I cannot understand why color is so important in choosing a dog – and why so many people avoid black. "
The color black has always stood for elegance, prestige, high fashion, power and sophistication. So it's a mystery why shimmering ebony dogs and puppies so often have to wait longer to become family members.
Last year, through the Back in Black adoption event, more than 3,000 pets found homes nationwide. This year, Lucky Dog Animal Rescue hopes to help increase that number by highlighting our adoptable black pups across social media and at adoption events in the metropolitan area. Lucky Dog Animal Rescue Back in Black efforts will culminate with a Doggie Fashion Show and adoption event on May 31st at Neiman Marcus Last Call in Fairfax, VA.
"This is a really exciting event for us," said Horowitz. "It is a unique opportunity to showcase these very special animals. Our hope is that potential adopters will see them for the amazing pets they are and provide them with the kind of loving homes we know they all deserve."
Lucky Dog Animal Rescue is a non-profit organization dedicated to rescuing homeless and abandoned animals, primarily dogs from high-kill shelters and owners who can no longer care for them. By working with committed volunteers, foster homes, local veterinarians, trainers, and boarding facilities, we are able to rescue hundreds of animals every year, provide them with loving temporary care, and find them well-matched, carefully screened forever homes. We also serve as a resource to our community and all pet owners by providing education and information on responsible pet ownership, including the importance of spay/neuter, positive behavior training, and good nutrition.
About Best Friends Animal Society®
Best Friends Animal Society is a national animal welfare organization focused on ending the killing of dogs and cats in America's shelters. An authority and leader in the no-kill movement, Best Friends runs the nation's largest no-kill sanctuary for companion animals, as well as lifesaving programs in partnership with rescue groups and shelters across the country. Since its founding in 1984, Best Friends has helped reduce the number of animals killed in shelters nationwide from 17 million per year to about 4 million. Best Friends has the knowledge, technical expertise and on-the-ground network to end the killing and Save Them All®.