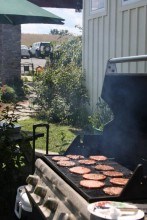 Washington, DC (PRWEB) August 20, 2013
Lucky Dog Animal Rescue is now selling tickets to the organization's Annual End of Summer BBQ to celebrate a successful summer saving more than 250 dogs.
The End of Summer BBQ will be held at the beautiful Barrel Oak Winery in Delaplane Virginia on September 8th from 11:30-3:30pm. Lucky Dog Animal Rescue volunteers will be cooking up a storm, including hamburgers, hot dogs and veggie burgers. There will also be a huge silent auction, featuring gift baskets, hotel stays, restaurant certificates, and much more.
The winery is dog friendly, and Dogma Bakery of Arlington, Virginia will be there with a treat bar for the dogs.
"This is such an amazing event. It is great to see all the alumni who are doing so well in their forever homes," said Mirah Horowitz, executive director of Lucky Dog Animal Rescue. "We have a great time, enjoying fabulous food and fabulous wine in a beautiful, dog friendly setting. What more could we ask for?"
This summer, Lucky Dog Animal Rescue has saved more than 250 dogs from certain euthanasia in high kill shelters throughout the rural south. Well over 5,000 dogs have been saved since the organization was founded in 2009. And, all of this happens through the hard work of volunteers, without the benefit of a physical shelter or facility.
The end of summer BBQ is a great opportunity to celebrate the hard work of Lucky Dog's many volunteers and to raise money for the next group of Lucky Dogs waiting to be saved from death row.
Tickets are on sale now on Lucky Dog's website. Advance tickets: $20/adult and $15/child. At the event: $25/adult and $18/child. All proceeds go directly to caring for Lucky Dogs.
"We look forward to this event all year," Horowitz said. "Bring the kids, the dogs, and the whole family. You won't believe what is waiting for you just 45 minutes outside of DC."
To adopt a Lucky Dog or to learn more about becoming a foster or volunteer, please visit http://www.luckydoganimalrescue.org.
About Lucky Dog Animal Rescue
Lucky Dog Animal Rescue is non-profit animal rescue organization dedicated to saving the lives of homeless animals in high-kill shelters and educating the community on responsible pet ownership. Lucky Dog Animal Rescue relies on a network of volunteers and fosters to facilitate adoptions and provide temporary homes for the dogs and cats available for adoption. Most Lucky Dogs are rescued from high-kill shelters in Virginia, West Virginia, North Carolina and South Carolina. Once rescued, the Lucky Dogs live in home through the Washington, D.C. metro area, including Maryland and Virginia. To learn more about Lucky Dog Animal Rescue and to view the animals awaiting their forever-homes, please visit http://www.luckydoganimalrescue.org.