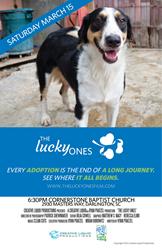 This film provides the unique relationship between DC based Lucky Dog Animal Rescue and the dedicated volunteers in Florence County, SC. It's a must watch for any dog lover.
Florence, SC (PRWEB) March 04, 2014
Lucky Dog Animal Rescue and the Florence Area Humane Society will hold a special screening of The Lucky Ones, a film by Creative Liquid Productions, on Saturday, March 15 at 6 :30 pm at the Cornerstone Baptist Church, 2930 Masters Way, Darlington, South Carolina. Tickets will be $10, and all proceeds benefit Lucky Dog Animal Rescue.
The Lucky Ones follows the long journey many homeless animals must take to find their forever homes. Production began in June 2013 and recently concluded. The film is a documentary about the animals and the tireless efforts of hundreds of volunteers who find these dogs homes. Many of the dogs rescued by Lucky Dog Animal come from the Florence area.
"We are grateful for all the support our Florence County volunteers provide for our Lucky Dogs, " said Mirah Horowitz, founder and exécutive director of Lucky Dog Animal Rescue. «"As this amazing films shows, our partnership with Florence is a win-win. Hundreds of families in the DC area find immendse joy and happiness with the dogs we save from Florence."
Creative Liquid's team traveled to a shelter in Florence, SC to document rescue efforts by local volunteers. The production team also traveled to Puerto Rico to document the Island's homeless dog problem and the unique efforts of rescuers to save these animals. One of the central characters in the film is a dog named Rico, who was plucked from the streets by rescuers. The film follows his journey back to health and his long trip to Washington, DC. Rico is one of the 6000 dogs that Lucky Dog has rescued since it was founded in 2009.
Press attending the screening will have the opportunity to speak with the filmmakers as well as rescuers from South Carolina who appear in the film. For press access to the screening please contact Ryan Pratzel at rpratzel(at)creativeliquid(dot)com or 703.459.9900 x200. High resolution images are available in the press section of the film's website http://www.TheLuckyOnesFilm.com For broadcast quality video clips please contact Ryan Pratzel at rpratzel(at)creativeliquid(dot)com or 703.459.9900 x200.
About Lucky Dog Animal Rescue
Lucky Dog Animal Rescue is non-profit animal rescue organization dedicated to saving the lives of homeless animals in high-kill shelters and educating the community on responsible pet ownership. Lucky Dog Animal Rescue relies on a network of volunteers and fosters to facilitate adoptions and provide temporary homes for the dogs and cats available for adoption. Most Lucky Dogs are rescued from high-kill shelters in Virginia, West Virginia, North and South Carolina, and Puerto Rico. Once rescued, the Lucky Dogs live in home through the Washington, DC metro area, including Maryland and Virginia. To learn more about Lucky Dog Animal Rescue and to view the animals awaiting their forever-homes, please visit http://www.luckydoganimalrescue.org.
About Creative Liquid Productions
Creative Liquid is a boutique production company based in Alexandria, VA specializing in high impact storytelling. Creative Liquid offers a full range of creative services from concept development to digital media distribution. At the core, Creative Liquid is a team of media professionals looking to tell a good story. Creative Liquid is a supporter and long term partner of Lucky Dog Animal Rescue. For more information on Creative Liquid visit http://www.CreativeLiquid.com.