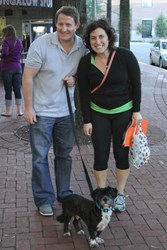 A record breaking forty one dogs found forever homes this weekend. This is a true testament to the hard work and dedication of the Lucky Dog volunteers!
Washington DC (PRWEB) September 16, 2013
Lucky Dog Animal Rescue (LDAR) is thrilled to announce that they have completed a record number of adoptions this weekend, helping forty-one dogs find their forever homes. With a base of over 1,000 volunteers working tirelessly to find homes for these animals, LDAR is able to reach and serve a large number of potential adopters through adoption events across the DMV area and with a large online and community presence.
Lucky Dog Animal Rescue brings dogs and cats to the DC area from high kill shelters where they face certain euthanasia. Once here, the organization's volunteer fosters provide temporary homes for the pets until a loving forever home can be found.
"There is nothing like seeing these dogs arrive at a transport," said Mirah Horowitz, founder and executive director of Lucky Dog Animal Rescue. "Some dogs step tentatively out into the new world. Some leap out of their crates and off the van. But each and every one of them seems to know their new life starts right then."
The adoption process includes an in-depth interview with one of the organization's trained adoption coordinators, a home visit by a Lucky Dog volunteer, a landlord check (if applicable), and a vet check to ensure that the potential adopter has treated any current or previous pets well. LDAR has a unique match-making program which takes potential adopters through the process and then matches them with an appropriate dog. This pre-approval process allows Lucky Dog to adopt out many more dogs each weekend than would be possible if a family had to meet and decide on a dog before being approved.
This weekend, LDAR brought fifty-six new dogs to the DC area from shelters as far away as Puerto Rico, South Carolina, North Carolina, and Virginia. These dogs joined the approximately forty dogs the organization had staying with local fosters and LDAR's boarding partners: Wagtime, The Board Hound, and the Dirty Dog Farm. Lucky Dog has no facility of its own.
"We are so happy that we were able to find wonderful homes for a record number of dogs this weekend," Horowitz said. "It is a real testament to the dedication and drive of our fantastic volunteers. I wish I was being adopted by some of our families!."
Since its founding in 2009, LDAR has rescued over 5,800 animals from high-kill shelters. LDAR has a 100% adoption rate.
To adopt a Lucky Dog or Cat or to volunteer or become a foster visit http://www.luckydoganimalrescue.org.
About Lucky Dog Animal Rescue
Lucky Dog Animal Rescue is non-profit animal rescue organization dedicated to saving the lives of homeless animals in high-kill shelters and educating the community on responsible pet ownership. Lucky Dog Animal Rescue relies on a network of volunteers and fosters to facilitate adoptions and provide temporary homes for the dogs and cats available for adoption. Most Lucky Dogs are rescued from high-kill shelters in Virginia, West Virginia, North and South Carolina, and Puerto Rico. Once rescued, the Lucky Dogs live in home through the Washington, DC metro area, including Maryland and Virginia. To learn more about Lucky Dog Animal Rescue and to view the animals awaiting their forever-homes, please visit http://www.luckydoganimalrescue.org.