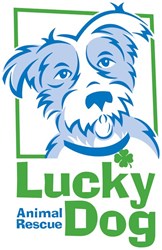 We're thrilled to be one of the first nonprofits to receive this year's Top Honor from GreatNonprofits.org!
Washington DC (PRWEB) October 10, 2013
Lucky Dog Animal Rescue announced today that it has been honored with a prestigious 2013 Top-Rated Award by GreatNonprofits, the leading provider of user reviews about nonprofit organizations.
"We are excited to be named a Top-Rated 2013 Nonprofit," says Mirah Horowitz, founder and executive director of Lucky Dog Animal Rescue. "We are so proud of the wonderful work our volunteers have done in finding homes for close to 1,000 Lucky Dogs and Cats this year alone. The reviews are a great testament to their drive and dedication."
The Top-Rated Nonprofit award was based on the large number of positive reviews that Lucky Dog Animal Rescue received – reviews written by volunteers, donors and adopters. People posted their personal experience with the nonprofit. For example, one person wrote, "I was so impressed with Lucky Dog and my wonderful coordinator, Suzie, that I began to volunteer with them. I love the way you can do as much or as little as you like and still be making a difference in the lives of these sweet dogs."
While the Top-Rated Awards run through the end of October, Lucky Dog Animal Rescue was part of the inaugural group to qualify for the year.
"Savvy donors want to see the impact of their donations more than ever," said Perla Ni, CEO of GreatNonprofits, "People with direct experience with Lucky Dog Animal Rescue have voted that the organization is making a real difference."
Being on the Top-Rated list gives donors and volunteers more confidence that this is a credible organization. The reviews by volunteers, clients and other donors show the on-the-ground results of this nonprofit. This award is a form of recognition by the community.
About Lucky Dog Animal Rescue
Lucky Dog Animal Rescue is non-profit animal rescue organization dedicated to saving the lives of homeless animals in high-kill shelters and educating the community on responsible pet ownership. Lucky Dog Animal Rescue relies on a network of volunteers and fosters to facilitate adoptions and provide temporary homes for the dogs and cats available for adoption. Most Lucky Dogs are rescued from high-kill shelters in Virginia, West Virginia, North and South Carolina, and Puerto Rico. Once rescued, the Lucky Dogs live in home through the Washington, DC metro area, including Maryland and Virginia. To learn more about Lucky Dog Animal Rescue and to view the animals awaiting their forever-homes, please visit http://www.luckydoganimalrescue.org.
About GreatNonprofits
GreatNonprofits is the leading site for donors and volunteers to find reviews and ratings of nonprofits. Reviews on the site influence 30 million donation decisions a year. http://www.greatnonprofits.org.