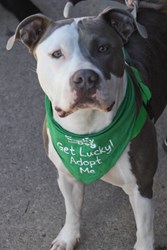 Only 1 in 600 pit bull will be rescued from a shelter this year -- because of how they look. We need to change that. We need to make people understand that what a dog looks like is not as important as what is on the inside.
Washington, DC (PRWEB) October 22, 2013
Lucky Dog Animal Rescue (LDAR) is excited to announce its first annual Pit Bull Awareness Day: Pitbulls in the Park. This event will be held in Dupont Circle on Saturday, October 26th from 12-3pm. It is one of many events that will be held across the nation as part of National Pit Bull Awareness Month.
Pitbulls in the Park is a day of appreciation and education designed to change perceptions and stereotypes about pit bulls and other "bully breed" dogs. The event will include training presentations from Anytime K9 and Let Dogs be Dogs, a costume contest, a kissing booth, and a presentation of adoptable pit bulls from LDAR and the Washington Humane Society.
LDAR, an all breed dog rescue that saves the lives of many pit bull and bully breed dogs, is proud to be part of national pitbull awareness day.
"Only 1 in 600 pit bulls will be rescued from a shelter," said Mirah Horowitz, founder and executive director of Lucky Dog Animal Rescue. "Without education and support, we can never change this fact and many wonderful dogs will be needlessly killed because they look a certain way."
Everyone is invited! Dogs are invited to participate in the training and agility demos and costume contest on the circle and they are also welcome at the dog-friendly happy hour at James Hoban's Hoban's Irish Restaurant from 3-5pm. A $5 donation is encouraged at the happy hour. There will be a raffle, complimentary food, and drink specials. All proceeds will support rescuing and saving pit bulls and other bully breed dogs.
To adopt a Lucky Dog or to learn more about becoming a foster or volunteer, please visit http://www.luckydoganimalrescue.org.
About Lucky Dog Animal Rescue
Lucky Dog Animal Rescue is non-profit animal rescue organization dedicated to saving the lives of homeless animals in high-kill shelters and educating the community on responsible pet ownership. Lucky Dog Animal Rescue relies on a network of volunteers and fosters to facilitate adoptions and provide temporary homes for the dogs and cats available for adoption. Most Lucky Dogs are rescued from high-kill shelters in Virginia, West Virginia, North Carolina and South Carolina. Once rescued, the Lucky Dogs live in home through the Washington, D.C. metro area, including Maryland and Virginia. To learn more about Lucky Dog Animal Rescue and to view the animals awaiting their forever-homes, please visit http://www.luckydoganimalrescue.org.