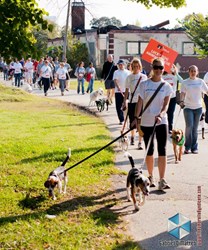 Every dollar we raise through Strut Your Mutt makes a huge impact on the life of a homeless dog or cat. We're proud of our fundraising team's amazing success so far and know we will hit our goal of $12,000!
Washington, DC (PRWEB) September 17, 2013
Lucky Dog Animal Rescue is proud to receive the top fundraising rescue award for Strut Your Mutt Baltimore/DC. Lucky Dog is one of many DC area rescues participating in Best Friends Animal Society's nation-wide Strut Your Mutt Event. Each rescue puts together a pack of "strutters," who raise funds on behalf of their organization. Lucky Dog's pack has 42 participants, more than any other rescue participating in the Baltimore event.
Lucky Dog has already met its fundraising goal of $10,000 and is now aiming to raise $12,000. These funds will help Lucky Dog provide critical services to assist them in their mission to rescue homeless and abandoned animals. The annual Strut Your Mutt event will be held on Saturday, September 21, at Blob's park in Jessup , Maryland.
Every day more than 9,000 pets are killed in shelters around the country simply because they don't have a home. Best Friends Animal Society and local rescue organizations like Lucky Dog Animal Rescue are coming together to decrease that number to zero.
"Each dog and cat we are able to save is an animal that previously had no hope " said Mirah Horowitz, founder and executive director of Lucky Dog Animal Rescue. "The support we receive for fundraising events like Strut Your Mutt helps us rescue even more Lucky Dogs and Cats from rural shelters across the South. No amount is too small to make a difference."
Lucky Dog Animal Rescue is a volunteer-run 501 c 3 non-profit organization that relies on the support of the community to help keep its mission going. Since 2009, Lucky Dog Animal Rescue has rescued over 5,900 animals from high-kill shelters in DC, Virginia, Maryland, and beyond.
"Just $10 can pay for a night of boarding to get one of our dogs out of an overcrowded kill shelter," said Horowitz. "$14 can pay for a dog's shots. $100 can pay for a spay or neuter. It doesn't take much to make a difference."
To help Lucky Dog Animal Rescue reach and surpass its goal for this year's Strut Your Mutt event, please consider walking with us on September 21, or donating to one of our existing team members. Your donation is tax-deductible and Lucky Dog keeps 100% of the money we raise. Together, and through your support, we can bring about a time of No More Homeless Pets®. The Strutt Your Mutt event is a leisurely fundraising walk followed by a doggie-themed festival that includes pet contests, photos, treats for your dogs, fun activities, refreshments and more.
About Lucky Dog Animal Rescue
Lucky Dog Animal Rescue is non-profit animal rescue organization dedicated to saving the lives of homeless animals in high-kill shelters and educating the community on responsible pet ownership. Lucky Dog Animal Rescue relies on a network of volunteers and fosters to facilitate adoptions and provide temporary homes for the dogs and cats available for adoption. Most Lucky Dogs are rescued from high-kill shelters in Virginia, West Virginia, North and South Carolina, and Puerto Rico. Once rescued, the Lucky Dogs live in home through the Washington, DC metro area, including Maryland and Virginia. To learn more about Lucky Dog Animal Rescue and to view the animals awaiting their forever-homes, please visit http://www.luckydoganimalrescue.org.