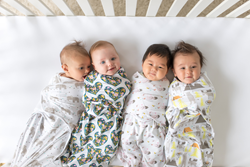 It has always been a dream of mine to design fabric patterns.
Scottsdale, AZ (PRWEB) November 18, 2016
Lucy Darling has been actively growing its product assortment since January 2014 and the newest product added to the mix are swaddles. The team at Lucy Darling has always wanted to design on fabric, so when Nuroo approached Lucy Darling to create designs for their soft and stretchy swaddles the team was ecstatic.
"It has always been a dream of mine to design fabric patterns. Frequently when I'm designing I think to myself this would be so cute on a fabric. So when this opportunity with Nuroo arose, I was over the moon. It's literally a dream come true. " – Haily Meyers, Creative Director
Haily Meyers, was a believer in the Nuroo swaddle even before being approached by the company to partner. She was given the swaddle as a gift and her baby girl slept for 10 hours the first night she was in it. Haily would rave to family and friends about the fabric. It's soft, wicking, stretchy, womb-like, everything a swaddle should be. She would even give the Nuroo swaddle as a gift to many of her mom friends and tell them " this is the only swaddle you will ever need." Needless to say, she was a huge fan, which is why when Nuroo approached Lucy Darling, it was a quick and instant yes.
The Nuroo swaddle is known for a few distinct characteristics.
1. Grow with me design lasts 3X longer - offering maximum use from birth until baby is rolling.
2. The signature fabric has the ability to pull sweat and moisture off baby's skin, passing it through the material and releasing into the air to keep baby comfortable and dry.
3. The compression fabric recreates the familiar, comforting in utero snugness + eases baby's transition from the womb
4. The wide leg pockets promote healthy hip development as acknowledged by the International Hip Dysplasia Institute
5. It's easy to use - no wrapping or tying
The Lucy Darling for Nuroo swaddles are designed with 4 signature Lucy Darling prints. Little Artist (floral) Little Love (swan) Little Animal Lover (elephant) Little Camper ( camping) and they retail for $34.99. The swaddles pre-launched on lucydarling.com on October 16.
About Lucy Darling
Lucy Darling offers baby milestone stickers, art prints for nurseries, nursery closet dividers, and baby memory books. They design all of their own product and print locally in the USA. From monthly baby stickers to nursery art prints, pregnancy belly stickers to closet dividers, Lucy Darling is thrilled to offer unique and high-quality products at affordable prices. Visit http://www.lucydarling.com.
Follow on:
Instagram: Lucydarlingshop
Pinterest: lucydarlingshop
Facebook: Lucydarlingshop
Media Contact:
Tiffany Perko
Lucy Darling
480.964.5829 x 4
Tiffany@lucydarlingshop.com
http://www.lucydarlingshop.com