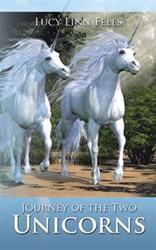 REVNICE, Czech Republic (PRWEB) February 24, 2016
When two unicorns are sent by Mother Earth and Merlin to help a group of horses suffering in a dry pasture, they discover that not every horse is open to their help. Undaunted, the unicorns undergo trials and tribulations in order to complete their task in "Journey of the Two Unicorns" (published by AuthorHouse UK).
Speaking about her inspiration for crafting her debut work, author Lucy Linn Fells says, "I am clairvoyant, one day I saw unicorns and I was told to write what I can see and hear."
An allegory for humanity's journey through the centuries, "Journey of the Two Unicorns" explores the notion that love always triumphs, even if it is a painful journey that takes many centuries. Representative of the concepts of male and female, the two unicorns also demonstrate how their energy should be in harmony with the planet.
Through her work, Fells hopes her readers will learn: "Don´t give up. Even there is lot of injustice, bad luck, hard trials in your life, don´t give up. Believe in Love."
"Journey of the Two Unicorns"
By Lucy Linn Fells
Softcover | 5 x 8 in | 122 pages | ISBN 9781504994217
E-Book | 122 pages | ISBN 9781504994224
Available at Amazon and Barnes & Noble
About the Author
Lucy Linn Fells is a therapist, intuitive healer, psychic and medium. Her therapy is called Back-on-the-track therapy. In her practice, she uses the knowledge of physiotherapy, ayurveda and her visions. Her therapy combines healing both body and soul. She has been a vegetarian for nearly 20 years. This is her first book.
AuthorHouse UK Ltd., is an Author Solutions, LLC, supported self-publishing services and a leading provider of self-publishing, marketing and bookselling services dedicated to serving authors throughout the United Kingdom. AuthorHouse UK is committed to providing authors the best self-publishing experience through a wide array of products and services designed to help individual authors realise their unique creative vision. AuthorHouse UK consultants provide guidance to authors throughout the self-publishing process. To date, AuthorHouse UK has released more than 6,500 titles. For more information or to begin publishing a book today, visit authorhouse.co.uk or call 0800 1974150 or follow @AuthorHouseUK on Twitter for our latest news and updates.