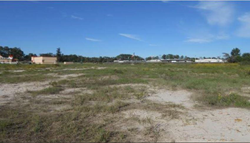 Lufkin, TX (PRWEB) December 23, 2014
12.258 acres -- of prime commercial land has become available in eastern Texas in the town of Lufkin. Located off the U.S. 59 freeway and Loop 287, traffic has increased in recent years, lending a much higher visibility to local businesses on Medford Drive, the area's major thoroughfare. The land is positioned inside not only the city limits of Lufkin, but within the section of Lufkin that has experienced the majority of the area's growth commercially.
Located at the epicenter of the region's newer commercial, professional, and service-related industries, the property already has the following utilities available: water, sewer, gas, telephone, and cable TV. With over 12 acres of space available on the property, there are no limitations to what interested buyers can do with the land.
Lufkin was founded in 1882 and its population as of the 2010 census was just over 35,000. Several of the city's major employers include Angelina College, Atkinson Candy Company, the Brookshire Brothers regional grocery chain, the oil pumping and power equipment manufacturer Lufkin Industries, Lufkin Independent School District, the poultry processing company Pilgrim's Pride, Stephen F. Austin State University, and the Fortune 500 company Temple-Inland.
The property is listed at $3,250,000 with an opening bid of $1,950,000 if no offer is received by the February 28, 2015 auction.
The highly motivated sellers of this property have indicated that they plan to entertain early bids and offers. Buyers are most likely already researching this property, and coming to decisions about whether to make a purchase, so potential buyers are advised to act fast.
Interested parties should visit micoley.com to find more photos and details about the property, or visit in person and perform an inspection on site, which is highly recommended. (866) 371-3619 is Micoley.com's information line. Additionally, Micoley.com features a live chat service through which questions can be answered.
About Micoley.com:
Green Bay, Wisconsin-based Micoley.com is a real estate marketing firm specializing in project focused auctions of bank-owned properties throughout the United States. The Micoley.com approach to real estate marketing tailors each auction plan to the client's individual needs. The site is constantly being updated for the benefit of buyers, as large-scale auction events are held monthly, and new properties are added daily. Auctioneer: Wade Micoley #16966. Broker: Nathan Gann #174677.