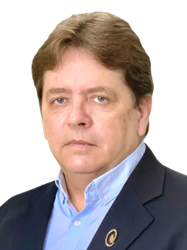 The demand for properties in Cancun keeps growing but Luis Mirabent is always a step ahead
CANCUN, Mexico (PRWEB) May 23, 2023
CEO of Berkshire Hathaway Home Services Cancun Properties
Luis Mirabent arrived in Cancun in 1976 with his parents and siblings. As a family, they started their business and for 26 consecutive years, they were known as the best tourist marina in Cancun, with his company Aqua Tours Adventures.
After selling his company in 2002, he opened "E Properties" which at the time became one of the top leading Real Estate agencies in Cancun. In 2005, he opened up his real estate platform and for 5 years straight it was the best real estate portal in Mexico for its innovative interactive mapping system.
On June 10th, 2016, the new offices were inaugurated in front of Boulevard Kukulkan in the Hotel Zone of Cancun. Another big milestone for the company happened in 2020 when "E Properties" adheres to Berkshire Hathaway HomeServices and changed its name to Berkshire Hathaway HomeServices Cancun Properties.
Luis Mirabent leads the company by example by having all the accreditations of the real estate industry. He was vice president of AMPI Cancun 2021 and is currently an active member of AMPI, as well as a member of the honor and justice committee of AMPI Cancun. In addition, he's a member of the National Association of REALTORS®.
The demand for properties in Cancun keeps growing but Luis Mirabent is always a step ahead. His vision is your best investment.
Visit Luis A. Mirabent's Haute Residence Profile: https://www.hauteresidence.com/member/luis-a-mirabent/
ABOUT HAUTE RESIDENCE
Designed as a partnership-driven luxury real estate portal, Haute Residence connects its affluent readers with top real estate professionals, while offering the latest in real estate news, showcasing the world's most extraordinary residences on the market, and sharing expert advice from its knowledgeable and experienced real estate partners. The invitation-only luxury real estate network, which partners with just one agent in every market, unites a distinguished collective of leading real estate agents and brokers and highlights the most extravagant properties in leading markets around the globe for affluent buyers, sellers, and real estate enthusiasts. HauteResidence.com has grown to be the number-one news source for million-dollar listings, high-end residential developments, celebrity real estate, and more.
Access all of this information and more by visiting http://www.hauteresidence.com