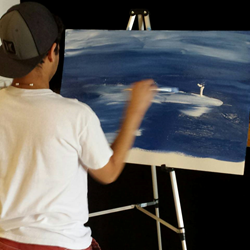 Art is my passion, my talent, my thing.
Northborough, Massachusetts (PRWEB) May 17, 2016
Luis Tirado (http://www.epicluisart.com), a teen actor, artist and entrepreneur with autism, will accept a Hearts & Arts Award from The Art of Autism on May 19 at the Plaza Cinema 14 in Oxnard, California. The awards ceremony takes place following the screening of Normal People Scare Me Too, a new documentary film about autism, in which Luis appears. The film was conceived by Taylor Cross, directed and co-produced by Keri Bowers (Taylor's Mom) and produced by Joey Travolta.
Luis, age 15, is being awarded a Hearts & Arts Award from The Art of Autism for his development in the arts, his efforts to inspire other teens to develop their art and entrepreneurial skills and his out of the box support and dedication to autism, the arts, advocacy and education. As The Art of Autism's founders Debra Muzika and Keri Bowers noted in Luis' award notification letter, "We've been watching your efforts for many years from the wings."
Every day, Luis lives out his life motto, "Autism Would Not Stop Me." He is on a mission to be independent and help others on the spectrum, and wants parents to know their kids can be successful.
Luis was born in Puerto Rico and diagnosed with Autism at age 2. In 2009, his family relocated to California and later to Massachusetts. While living in California, Luis pursued his dream of becoming a teen actor and was cast in the musicals Beauty and the Beast and Aladdin in 2015. He also played a student of the Chambers Academy on NBC's popular family drama, Parenthood.
A virtuoso artist who enjoys working in graphite, acrylic, oil pastels, watercolor, mixed media and chalk, Luis' work has been included in group exhibitions at galleries in California and Beijing, China, and he participates in a variety of art and craft festivals throughout the year. He received a "Best Use of Color Youth Award" at the 2014 Autism Chalk Festival.
Says Luis, "Art is my passion, my talent, my thing. When I'm painting I feel inspired, happy and free. I love to share my art work with people and inspire others on the spectrum to try something. We have talents and it takes time to use it. I want parents to see that their child is capable of doing something. I consider myself creative and talented. I love all kinds of arts. I paint and draw in different mediums. I create animal sculptures. Autism helps me to work hard, because I see things in a different way."
In 2013, with the help of his parents, Luis founded Epic Luis Art, which sells works of art to help other young people with Autism. Epic Luis Art donates 10 percent of its profits to various non-profit organizations that help families affected by Autism.
In 2015, Luis volunteered to help young adults with autism understand and practice the sales process at craft fairs.
Currently, Luis takes singing lessons at Boston Conservatory. His bass voice is a natural for opera and he is learning Italian. On May 15, he participated in a Conservatory recital, where he sang, "Somewhere," from the musical West Side Story and "O Del Mio Amato Ben," an opera lover's favorite by Stefano Donaudy.
Luis is active on social media. Fans can follow him on Facebook (@EpicLuisArt) and Twitter (@epiclart). Journalists who would like to speak with Luis can reach out using the contact buttons in the upper right hand corner of this press release. Luis is also available for conferences and art exhibits; contact him here.
ABOUT EPIC LUIS ART
Epic Luis Art (http://www.epicluisart.com) supports "utopia and independence through art." It is the place to view and purchase the art of Luis Tirado, a 15 year old emerging artist with autism, on a mission to be independent and help others on the spectrum.
ABOUT THE ART OF AUTISM
The Art of Autism (http://www.the-art-of-autism.com), founded by Debra Muzikar and Keri Bowers, is a non-profit organization/collaborative of over 500 creative people and 50 organizations. Participation is through sharing art, poetry, words and gifts.