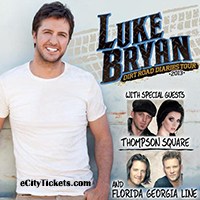 Luke Bryan tickets are on sale now at eCityTickets.com for the 2013 Dirt Road Diaries Tour and the Fifth Annual Farm Tour.
(PRWEB) July 26, 2013
Luke Bryan Tickets are going to be fought over by country music fans this summer. This is Bryan's very first summer tour in which he is the headliner and every single show will be a special experience for him and the crowd full of cowboys and cowgirls. The Dirt Road Diaries Tour will showcase some of his newest hit songs and will surely be the only place to be this summer for country music lovers.
Luke Bryan will be making his way to over 30 cities in the United States in 2013 with the Dirt Road Diaries tour, but he will not be alone. Along with him on the Tour will be Thompson Square and Florida Georgia Line at most concerts. The young bands, Thompson Square with "Are You Gonna Kiss Me or Not?" and Florida Georgia Line with "Cruise" have been burning up the radio over the last year. And, this is may be the only chance to see Luke Bryan and two of the biggest up-and-comers in the industry this year.
In addition, Luke Bryan is staging his fifth annual Farm tour which will hit eight cities, including five in his home state of Georgia. The Farm tour concerts are a way to give back to local farming communities by celebrating and lifting up the American farmer and offering a fun escape with the outdoor shows. The appearances raise money for the Luke Bryan Farm Tour Scholarship. Last year, the shows attracted over 100,000 fans and provided eight scholarships to students from farming families within the communities that supported the tour.
Luke was born and raised in the small town of Leesburg, Georgia. It had been his dream to move to Nashville after high school, but the night before leaving, his brother was fatally wounded in a car crash. Changing his plans, he decided to go to school close to home and earn a degree. It may have taken Luke Bryan a little longer than others to realize their dreams, but eventually he moved to Nashville at his father's insistence. And now at 36, he is hitting the road on his very own cross-country tour.
After 2009, Luke Bryan continued his success by sustaining a constant stream of solid singles and albums. Hits like "If You Ain't Here to Party," "Country Girl (Shake It for Me)," "I Don't Want This Night to End," and "Drunk On You" have ensured that the Dirt Road Diaries Tour will be the only place to be for hundreds of country fans this summer. And, with over 30 concerts on the books for the Dirt Road Diaries Tour, now is the time to see Luke Bryan live.
The Dirt Road Diaries Tour will be stopping in lots of cities, including Cincinnati, OH, Englewood, CO, Tulsa, OK, Nashville, TN and Tampa, FL just to name a few. In his first headlining tour of his career, Luke Bryan will be putting on an incredible show. Luke Bryan Tickets can luckily be bought now at http://www.eCityTickets.com.