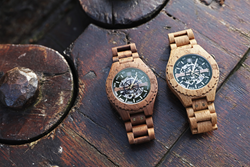 It was a very successful campaign thanks to the help from all of our supportive backers, but we have no plans to stop here.
Netherlands (PRWEB) November 30, 2016
The Lumbr team looks to end their month-long Kickstarter campaign by raising over $74K after announcing the addition of the Walnut Troy watch and the gold-colored movement option. The timeless, handcrafted watch with the visible mechanical skeleton and automatic movement provides the everyday man with a timepiece that's stylish, durable and unique.
For those who are looking for an everyday watch to wear, Troy's wooden strap and stainless steel butterfly clasp remain hypoallergenic so that anyone can wear the Troy collection without discomfort. For the adventurous wearers, this premium timepiece can also withstand rain, splashing and accidental submergence. The latest addition to the Troy collection has been the Walnut wooden strap and the gold-colored movement option so that wearers can customize their watch to fit their lifestyle.
"It was a very successful campaign thanks to the help from all of our supportive backers, but we have no plans to stop here," said project creator Bart Hulshof. "We are looking to take the suggestions that we received during this campaign and see what we can make possible to better the products that we have now, as well as the products we make in the future."
Uniquely designed, Troy features a Sapphire glass front and back. Made from the second hardest material in the world behind diamonds, Troy watches are hard to scratch and built to last. Beneath the Sapphire glass and the delicately handcrafted wooden casing lies a high-end Japanese Miyota mechanical calibre. While each watch shares the same parts inside, no two watches are exactly alike, as each one is individually handcrafted and has its own unique wood grain pattern.
Lumbr's Kickstarter campaign will run until Monday, December 5. There are multiple rewards for backers to choose from, including the Early Troy Duo which features two Troy watches for $370, which is 35% less than the future retail price. For more information about Troy watches, visit http://bit.ly/TroyKS.
ABOUT LUMBR
Style and simplicity: that's what Lumbr is all about. Headquartered in The Netherlands, Lumbr offers a new line of high-quality, handmade wooden products with a sturdy look and modern design. Each product showcases authentic Dutch craftsmanship at its best while also providing lasting durability. For more information, visit http://www.lumbr.nl.