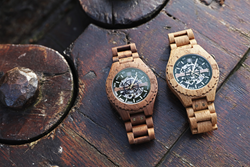 It was a very successful campaign thanks to the help of our supportive backers, but we have no plans of stopping here.
Netherlands (PRWEB) December 05, 2016
The Lumbr team announced their move to Indiegogo's InDemand this week shortly after wrapping up a successful Kickstarter campaign. The Troy campaign raised over $80K for their line of handcrafted wooden watches thanks to over 380 backers.
Lumbr has been producing innovative wooden products since they opened for business in 2013. The company's newest line of watches, Troy, offers individuals an affordable, stylish everyday watch for men. The differentiator between Troy and other wooden watches is the visible mechanical skeleton with automatic movement. Once the company raised over $40K, they introduced a Walnut version to accompany the Oak version that was originally featured. The team also announced today that they will make the gold-colored movement available to all early supporters.
"It was a very successful campaign thanks to the help of our supportive backers, but we have no plans of stopping here," said co-founder Bart Hulshof. "The voices of our backers mean a lot to us, so we're taking the suggestions we received during this first campaign and looking to see how we can take those ideas and suggestions to enhance the products we have now and make more products available in the future."
After watching the success of the campaign grow so quickly on Kickstarter, the company has decided to continue offering their watch collection on Indiegogo's InDemand platform at a discounted price, exclusive to Indiegogo supporters. Lumbr's watches set themselves apart with self-winding mechanical movement, superluminous dials, hidden RVS butterfly clasps, built-in shock absorbers and sapphire glass front and backs.
Lumbr's Kickstarter campaign recently ended on Monday, December 5. The company is now offering Oak or Walnut Troy watches on Indiegogo, which can be pre-ordered for $199, which is 33% less than the future retail price. For more information about the Troy collection, visit http://bit.ly/LumbrIGG.
ABOUT LUMBR
Style and simplicity: that's what Lumbr is all about. Headquartered in The Netherlands, Lumbr offers a new line of high-quality, handmade wooden products with a sturdy look and modern design. Each product showcases authentic Dutch craftsmanship at its best while also providing lasting durability. For more information, visit http://www.lumbr.nl.