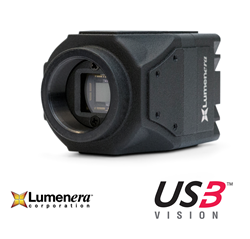 Stuttgart, Germany (PRWEB) November 04, 2014
Lumenera Corporation, a leading manufacturer and developer of high performance digital cameras and custom imaging solutions, announces today that their high performance USB 3.0 cameras, the Lt Camera Series, received certification with the USB3 Vision standard, which is appointed by the world's largest machine vision trade association, the AIA.
"USB3 Vision certification is a key strategic component for our industrial and scientific product line and roadmap," stated Nick Bulitka, Director of Business Technology Research. "Introducing USB3 Vision support in our cameras allows vision users and integrators to now leverage some of the highest performance camera technology on the market in an easy to use configuration within their USB3 Vision based system, marrying high performance and simplicity."
USB3 Vision, which is defined by the AIA, ensures that certified products are interoperable with a standard set of interfaces and APIs. This enables Lumenera cameras to work with a wider suite of third party software. The USB3 Vision interface is based on the standard USB 3.0 interface and uses USB 3.0 ports that will soon be standard on most PCs.
"While we have a large number of software partners that have developed drivers for our cameras, including our USB 2.0 solutions, being USB3 Vision certified adds support to simplify third party application integration for our customers," said Dany Longval, Vice President, Worldwide Sales. "Our USB3 Vision cameras simplify imaging by making our solutions interoperable with the most popular third party software programs in the industry, ensuring that we have the best camera for any USB 3.0 application."
To hear more about Lumenera's USB3 Vision certified solution, or to see our USB 3.0 cameras, visit Hall 1-F, Booth 79 at the Vision Show in Stuttgart from November 4 – 6, 2014.
To learn more about Lumenera's USB 3.0 cameras, visit http://www.lumenera.com/usb3/index.php.
About Lumenera
Lumenera Corporation, a division of Roper Industries, and headquartered in Ottawa, Canada, is a leading developer and manufacturer of high performance digital cameras and custom imaging solutions. Lumenera cameras are used worldwide in a diverse range of industrial, scientific and security applications.
Lumenera solutions provide unique combinations of speed, resolution and sensitivity in order to satisfy the most demanding digital imaging requirements. Lumenera customers achieve the benefit of superior price to performance ratios and faster time to market with the company's commitment to high quality, cost effective product solutions. For further information about Lumenera, please visit http://www.lumenera.com or call 613-736-4077. To receive Lumenera press releases as they are issued, contact us at marketing(at)lumenera(dot)com.