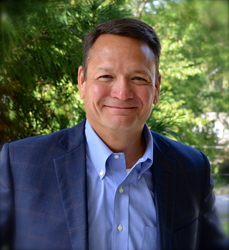 Lumense's SensorIT™ platform will enable increased productivity, safety and sustainability in agriculture and food and beverage production," said Murdoch.
Atlanta, GA (PRWEB) June 03, 2015
Lumense, an Atlanta-based developer of real-time chemical sensors capable of continuously monitoring and measuring substances in air and water, announced today that George Murdoch has joined the company as Vice President of Sales. Murdoch, who was most recently an Executive Vice President at Berkshire Hathaway-owned CTB, Inc., brings to Lumense broad experience building customer relationships and channel partnerships in the agricultural technology and food production industries.
"Lumense's continuous ammonia monitor, which is going into production this month, is a game-changing product for poultry grow-out houses, as well as other agricultural, environmental, and industrial applications. It is the first of many products within Lumense's SensorIT™ platform that will enable increased productivity, safety, and sustainability in agriculture and food and beverage production," said Murdoch. "I'm excited to have the opportunity to work with growers, integrators, and channel partners, both in the US and internationally, to get this important tool launched and into widespread use."
Murdoch has over 25 years of experience in leadership roles with CTB, Inc. During his tenure in senior management, the agricultural technology company, well known for its Chore-Time, Brock, Fancom, Roxell and Meyn branded products, evolved into a global market leader through product innovation and acquisitions. Murdoch was responsible for developing international sales channels, service capabilities, and strategic partnerships. In his most recent position, he developed and led a new business division formed by integrating three European acquisitions with an American operation, and previously held positions of Business Development Manager, General Manager – Europe, and Sales Manager – Latin America.
"George's leadership experience, industry knowledge, and steady personal style make him an outstanding addition to the growing Lumense team. George has achieved his past success by stressing customer service and mutually beneficial business relationships, two attributes we're trying to ingrain in our culture. We are fortunate to have someone of George's caliber leading our sales efforts," said Mike Slawson, Lumense's Chief Executive Officer.
Lumense's continuous ammonia monitor mounts on the wall of a poultry house control room, reads ammonia levels at bird height in the poultry house every two minutes, stores and displays readings within a secure user interface, and provides data to house ventilation controllers. It is currently being tested by major poultry integrators and leading industry researchers with positive results. The product enables better understanding and tighter regulation of ammonia levels, thus improving feed conversion and reducing disease risk.
About Lumense
Lumense, located in Atlanta's Advanced Technology Development Center (ATDC), offers real-time, in situ, chemical and biological sensors derived from $20 million in funded research conducted at Georgia Tech. The technology platform has been used to continuously detect trace amounts of over fifty different substances so far, many of which could be previously detected and quantified only with expensive laboratory equipment after sampling. Under exclusive license from Georgia Tech, Lumense is developing a common, scalable sensor platform, allowing customers to move from a reactive to a proactive approach to contaminant management and recipe control. Initial products include a sensor, in beta testing, for detecting trace levels of impurities in gases used by the food and beverage industry, and a sensor, currently being transferred into production, for tracking ammonia levels in poultry grow-out houses. Visit http://www.lumense.com for more information.