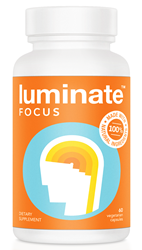 I'd even venture to say it's life-changing... being able to discover my ability to keep focused and subsequently succeed in class has boosted my confidence in every aspect of my life.
Princeton, NJ (PRWEB) April 23, 2014
After overwhelmingly positive feedback from dozens of students at Princeton University, Luminate Labs today announced that college students across the country now have access to Luminate Focus™, a natural supplement designed for students who need clear focus, concentration, and motivation to tackle their classwork.
College students face increasing pressure to keep up with school work and study for exams. Many overuse coffee and energy drinks, which provide a "lift", but not necessarily focus.
"The idea behind Luminate was to create a product that would not only have long term benefits, but also deliver immediate results that lasted throughout the day. Many of these vitamins, amino acids and botanical extracts have been clinically studied for their benefits related to cognition and mood. Thousands of people in the do-it-yourself community have been using blends like Luminate for years", said Hafiz Dhanani, who left Princeton University in the spring to found Luminate Labs.
Luminate Focus™ is a blend of botanical extracts and amino acids — the key ingredients in the product are also found in green tea, wheat bran, protein rich foods, and different fruits and vegetables. The Luminate Focus Blend combines these ingredients in a way that while safe, is unrealistic for most people to reasonably achieve through food.
Hafiz Dhanani, CEO of Luminate Labs, commented further. "Luminate is not a magic bullet. If students procrastinate and need something to stay up all night, this product is not for them. However, if they are looking to be more efficient when they study, I am confident they will be very pleased with the results".
Here's what students at Princeton University are saying about Luminate Focus™:
"This supplement is empowering. It allows you to maintain focus, and the more efficiently you work, the more positive momentum you build… I'd even venture to say it's life-changing in that regard: being able to discover my ability to keep focused and subsequently succeed in class has boosted my confidence in every aspect of my life." - Jessica M.
"Every time I checked Facebook or got distracted, I would simply get bored and wander back to my work, which was great." - Frank J.
"I was able to concentrate on assignments for longer stretches of time without interruption or distraction. I knocked out task after task after task for 6-8 hours or so." - Caleb N.
"I was studying for my math final. I usually reward myself with a five minute break after every question. With Luminate I didn't feel the urge to take a break. My mind did not wander and I was able to work through a final an hour faster than usual!" – Andrew S.
"I felt very focused. I was able to ignore distractions and really get into the assignment. I would recommend it to friends because it worked well and I noticed no side-effects." – S.L.
"Very focused. More than I've ever been when I'm studying. I started using study techniques that I had never done before like reading my notes out loud. It was like I was in a different world. I think it definitely helped for my exam the next day." – Cam H.
"I'm not a person who's taken supplements in the past. However, I know that even this one-time use helped me. Sometimes you just need a push to show yourself that you know how to study well, be productive, and be efficient. In fewer words, Luminate shows you your potential. Even from just one day's use, I've built on that momentum, using that feeling from a day of potential reached to fuel me." – Jordan R.
For more information or to purchase, please visit the Luminate Focus™ Supplement listing on Amazon.com
ABOUT LUMINATE LABS:
Luminate Labs is a health and wellness company founded by a Princeton University student to help students and professionals learn faster and achieve more. Luminate's holistic philosophy emphasizes the importance of effective study habits and routines, quality sleep, meditation and a diet of whole non-processed foods, for optimal mental performance.