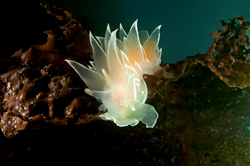 These majestic creatures deserve a chance to share their story and this book is their vessel to do so.
SANTA BARBARA, CA (PRWEB) August 07, 2014
The underwater photography book, "Luminous Sea," is currently the subject of a live crowdfunding campaign on Indiegogo. The campaign, originally set to end July 30th, has been extended 25 days to the new end date of August 24th.
"Luminous Sea" is the third installment in a trilogy of underwater photography books by A.S.K. Studios and renowned photographer Richard Salas. Reaching the $45,000 funding goal allows for the production of "Luminous Sea" and the reprinting of "Sea of Light," the first book of the underwater trilogy, which is currently sold out. The extension of the campaign means that backers have more time to contribute and spread the word about the amazing story behind "Luminous Sea."
"The extension of this campaign will allow more people to discover the beauty of this rarely seen world," said Salas. "These majestic creatures deserve a chance to share their story and this book is their vessel to do so."
This 12" x 12" coffee table book features over 150 pages of breath-taking, high-resolution underwater photographs covering the chilly, underseas world of the Northern Pacific Ocean from Washington to the islands of Alaska. Salas traveled the waters from the Equator to Alaska to capture these images of the beautiful marine life featured in the entire underwater trilogy.
Both Salas and A.S.K. Studios are incredibly passionate about wildlife and the conservation of underwater habitats. To further demonstrate their passion, Salas has pledged to donate fifty percent of the future non-crowdfunding profits from "Luminous Sea" to The Ocean Foundation, an organization that works with donors to grow the financial resources available for marine conservation.
To back the "Luminous Sea" Indiegogo campaign and pre-order a copy of the book today, visit http://bit.ly/LSindie. Also, Like Sea of Light on Facebook and follow @ASKphotoH2O on Twitter.
ABOUT A.S.K. STUDIOS
Founded by underwater photographer Richard Salas, A.S.K. Studio is a Santa Barbara-based photography studio that produces the Sea of Light trilogy, a compendium of photographs that capture the beauty of undersea life. The final book in the series, "Luminous Sea", is to be released in the spring of 2015. To learn more, visit http://www.askphotoh2o.com/h2o.