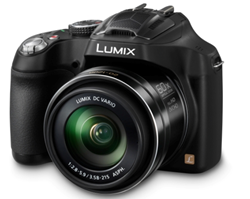 Panasonic announces the LUMIX DMC-FZ70 16.1 megapixel digital camera with 60X super long zoom and Dolby Digital Sound.
NYC, NY (PRWEB) July 17, 2013
Life is more than a single moment captured in time. Panasonic understands that, and delivers advanced multimedia technology in the Panasonic LUMIX DMC-FZ70. Bring in the action super-close with a 60X optical zoom. Discover the optical performance of the DMC-FZ70 with an amazing 20mm wide-angle to 1200mm (60X) long zoom, making it a category class leader. Video and photos appear bright in low-lit conditions with the F2.8-5.9 lens. Combined with optical image stabilization, both long zoom photos and videos are sharp and blur-free. Experience Full 1080/60i HD Panasonic Video recording with auto focus from the Panasonic DMC-FZ70.
Achieve crystal clear audio, utilizing a unique microphone that eliminates ambient noise and wind sound with the stunning clarity of Dolby® Digital. This amazing microphone even zooms with the camera to precisely zero in on the audio coming from the subject.
Super long zoom lens from 20mm ultra wide-angle to 60x optical zoom
At 60X optical zoom (20mm-1200mm), the Panasonic DMC-FZ70 lens is the widest and longest zoom in its class. Discover stunning versatility from ultra-wide 20mm to an incredible 1200mm range, making it possible to capture dynamic landscapes, wildlife, and almost any scene when traveling. At 20mm, the lens captures a nearly 140% wider angle of view compared with a 24mm lens. Capture a little extra zoom with Intelligent Resolution technology. The Panasonic DMC-FZ70 can extend the zoom ratio up to 120X equivalent, while maintaining superior picture quality.
Amazingly clear zoom Microphone with Dolby® Digital audio quality
Recording video with the DMC-FZ70 is easy, but what's really amazing is the camera's ability to capture crisp, clear audio. The videos are accompanied by realistic Dolby® Digital Stereo Creator. Sound quality with the DMC-FZ70 is further improved by the newly developed Wind Shield Zoom Microphone, which minimizes wind noise by approximately 70% as compared to prior models. Externally, the sealed structure prevents wind from hitting the microphone directly, while the draft structure suppresses the retention of air internally. These, combined with the mic's ability to audio zoom in conjunction with the optical zoom, results in sound that is clear and comfortable to listen to even if it was recorded on a windy day.
Create Stunning Movies with Full HD Video Recording
The DMC-FZ70 records Full-HD 1920 x 1080 videos in both AVCHD and MP4 format. A separate button on the top of the camera lets one instantly start recording videos while simultaneously shooting a photo, without changing settings. The Creative Video Mode empowers one to adjust the shutter speed and aperture when shooting videos to get the creative effect one is looking for.
The Power Optical Image Stabilizer (O.I.S.) with Active Mode delivers sharp, clear images, effectively suppressing hand-shake that causes blurred photos. Even slight hand-shake movement is accurately detected and compensated for to produce sharp, clear images. POWER O.I.S. delivers beautiful images even in low light, or shooting handheld at 1200mm super telephoto. The Active Mode in the DMC-FZ70 performs beautifully when recording wide-angle video, such as shooting while walking. The resulting videos are stable and clear.
The Panasonic DMC-FZ70 takes photography to the next level with blazing fast speeds of up to 5 frames per second (fps) AF or 2fps with continuous AF Tracking, keeping your subject in focus even while it moves. An even faster 3 frame burst at 9 fps helps lock in those fast moving, once in a lifetime moments.
Low Light 16.1-megapixel High Sensitivity MOS Sensor
Combine the DMC-FZ70's bright F2.8-5.9 lens with the new 16.1-megapixel High Sensitivity MOS sensor, and get a camera that delivers phenomenal image quality in high-sensitivity shooting scenes. The sensor cuts noise by 10-15%, and dramatically improves image quality vs. previous models. Together with the Venus Engine, this superb sensor elevates the response, sensitivity, and image quality of the DMC-FZ70 to even higher levels.
B&H Photo a qualified Panasonic Authorized dealer with the most up to date Panasonic product information, product pricing and promotional offers. B&H Photo is currently accepting pre-orders on the Panasonic DMC-FZ70 digital camera.
Connect with B&H Photo on the web! (Facebook, Twitter, Tumblr, Google+, Pinterest, Flickr, YouTube, B&H Insights & InDepth)
About B&H Photo Video
As the world's largest source of photography, video and audio equipment, B&H Photo-Video is known worldwide for their attentive, knowledgeable sales force, and excellent customer service, including fast, reliable shipping. Visitors to the website can access a variety of enlightening articles and educational videos. B&H has been satisfying customers worldwide for close to 40 years.