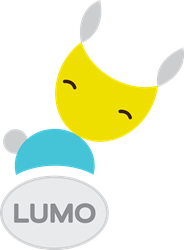 "It's time for families to benefit from an interactive toy that not only encourages kids to move, but also teaches them to make their own games." -Meghan Athavale, CEO
Winnipeg, Canada (PRWEB) September 11, 2013
The LUMO Kickstarter campaign goes live Sept. 11, 2013, with nine pledge levels to fund the transition of LUMO from working prototype to consumer product ready for the market. LUMO is a software-driven interactive toy that projects images and games onto the floor. Additionally, LUMO provides children with the tools they need to customize -- and even create -- their own interactive worlds and games.
"LUMO has been tested internally at PO-MOtion, and the innovative interactive projection technology is a fun and exciting way for children of all ages to learn and entertain themselves," said Meghan Athavale, CEO, PO-MOtion. "Using Kickstarter, we hope to bring LUMO out of the prototype phase and make it generally available in February 2015."
LUMO emphasizes creative and learning with interactive software targeted at ages 1-4, 4-8 and 8+, respectively. A sensor in the projector tracks motion to sense how a child is interacting with the projected images and makes changes appropriately.
For infants and pre-schoolers, LUMO offers abstract cause and effect interactions, providing them with experiential scenes that help them better engage with the physical world. For ages 4-8, the included games aim to help children develop their large motor skills. Older children have the ability to use tool templates to customize their games by drawing their own images and swapping them for existing game assets. The developer tool offers children a simple drag-and-drop interface and will eventually include full development features so kids can create their own games.
The LUMO Kickstarter campaign will close on October 31, 2013. The company hopes to raise $200,000 for the project.