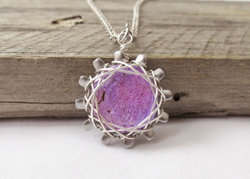 ... the perfect accessory for fun-loving Fashionistas.
Brookfield, Massachusetts (PRWEB) April 08, 2015
Luna Jewelry (LunaJewelry.indiemade.com) will be including its handcrafted Edgy Stainless Steel Washer Necklace in an exclusive Press Bag pulled together by The Artisan Group® for GBK's 2015 MTV Movie Awards Weekend Gift Lounge. The Gift Lounge takes place April 10-11, 2015 at an exclusive location in Hollywood, California.
These one-of-a-kind pendant necklaces feature a light-catching, handcrafted cabochon that hangs on a rhodium-plated chain finished with a hand-formed silver clasp. "This is a colorful necklace that is guaranteed to bring compliments every time you wear it," says Julia Puishys, designer and founder of Luna Jewelry. "I think it's the perfect accessory for fun-loving Fashionistas to wear throughout the summer music festival season and beyond."
Press Bag recipients will receive their pendant necklace in either sky blue, purple, garnet red, emerald green or pink. They will find the necklace secured to a Luna Jewelry presentation card and tucked inside a cream-colored organza bag.
Luna Jewelry's Edgy Stainless Steel Washer Pendant Necklace measures 18 inches long as gifted, and is also available in 16 and 20 inches lengths. The necklace retails for $35.00 and is available to custom order at LunaJewelry.indiemade.com.
Julia creates out of her studio in central Massachusetts. Her most popular jewelry to date is her wire-wrapped Honeybee necklaces and earrings. The necklace was gifted to Stephanie Drapeau several years ago and the actress has worn it in public and tweeted about it, saying: TY @lunajewelry of @theartisangroup for this beyond-words-perfect necklace! Bees have been a theme 4 me!"
The pieces are also popular with beekeepers and nature lovers. "I think my bee jewelry speaks to a lot of people, especially due to raised awareness around saving our precious honeybee population. I've also learned that Melissa means honey bee, so there's that," Julia notes with a smile.
Julia has been painting in watercolor since her teen years. She ultimately translated her creativity into jewelry design and opened Luna Jewelry in 2009. Her pieces convey a fun-loving attitude and her appreciation for timeless beauty and original designs. Today, Julia has many avid collectors from around the world.
Her original design Sterling Silver Sapphire Gemstone and Dagger Necklace was worn by Jodi Lyn O'Keefe (as Dr. Jo Laughlin) on Season 6 of The Vampire Diaries. Relates Julia, "To have created a piece of The Vampire Diaries jewelry is something I would never have dreamed possible; it's definitely been a highlight for the business and I have The Artisan Group to thank, as the piece was selected for use from their collaborative gift bag to the show's wardrobe stylists."
To learn more about Luna Jewelry, contact Julia Puishys by email. Become a fan on Facebook (@Luna-Jewelry) and follow the company on Twitter (@lunajewelry) and Instagram (@luna_jewelry). Follow its boards on Pinterest at @lunajewelry. Shop Luna Jewelry at LunaJewelry.indiemade.com.
ABOUT LUNA JEWELRY
Luna Jewelry (http://LunaJewelry.indiemade.com) is the home for handcrafted artisan jewelry that is as unique as its wearer. Julia Puishys (pronounced push-isz) began her artistic journey as a small child, where she taught herself traditional drawing, and eventually discovered watercolor, acrylic, and oil painting. Today she is an accomplished jeweler who has had her designs worn on The Vampire Diaries.
Julia happily works in her home studio in central Massachusetts with her loving husband as her accountant, her two daughters as cheerleaders, two kitties as late-night work buddies and a mischievous house rabbit named Buster.