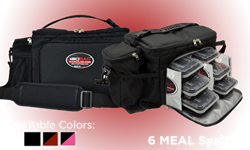 South Beach, FL (PRWEB) December 22, 2013
Save 10% on the ISOBAG™. Use coupon code SALE10.
Isolator Fitness has been able to set themselves apart from their competitors by offering products that are well-made, affordable and produced in the United States of America.
While other companies continue to send their manufacturing business overseas, Isolator Fitness has emphasized the importance of providing products that carry the "Made in the USA" emblem.
"We feel that our customers deserve the highest-quality products available, and those products are made in the USA," said owner David Vollmer. "We never went into this business with the idea that everything would be motivated by profits alone. We set out to provide the best products to our consumers."
The ISOBAG™ has quickly become a consumer favorite, as it comes equipped with a number of features and accessories that seem to be practical for a wide range of customers.
"The design is intended to be functional for everybody," said Vollmer. "I use it for fitness purposes, but it is a truly useful cooler bag for anyone who has a need to keep foods cold and ready to eat wherever they are."
The ISOBAG™ comes with a number of various sized containers, all of which are safe for use in the microwave, freezer and dishwasher. They are also free of BPA and lead, making them an ideal and safe container for any number of uses. The containers are stackable and easily fit inside the ISOBAG™.
According to Vollmer, a major goal in designing a new lunch cooler bag was to come up with a bag that was practical, well-made and easily transported. "When we first began, we set out to create something that was incredibly practical and durable for all of our customers," said Vollmer. "We feel that we have accomplished that, and we very proud that we were able to do so by manufacturing a product that is made in the USA."
Isolator Fitness is offering a promotion to their customers who wish to purchase the ISOBAG™. Customers who use the discount code SALE10 will receive ten percent off of their purchase.
"We thought that would be a nice way to give back and say thanks," said Vollmer.
Save 10% on the ISOBAG™. Use coupon code SALE10.