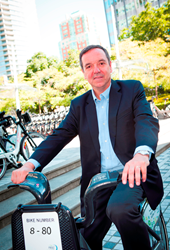 Gil Penalosa brings a wealth of experience, knowledge and passion to the urban parks movement. - Catherine Nagel, Executive Director, City Parks Alliance, Washington, D.C., USA
Detroit, MI (PRWEB) April 14, 2015
The Jefferson Avenue Streetscape Project signals a new era for development in Detroit's east Jefferson corridor - and 501(c)3 Jefferson East, Inc. (JEI) is closer to establishing East Jefferson Avenue as one of Detroit's most modern and safe thoroughfares.
On Wednesday April 1, contractors for the City of Detroit broke ground on a project that will install five landscaped islands and buffered bike lanes to the Historic Jefferson-Chalmers Business District on Detroit's lower east side.
To commemorate this landmark project, on Thursday, April 30, JEI will host "Link Jefferson - Connecting Detroit's Riverfront Neighborhoods" - a celebratory luncheon that will also serve as the launch pad for the Gil Penalosa-led Detroit-based 8-80 Cities Immersion Program, which takes place June 22-26, 2015 (sponsored by Jefferson East, Inc. and the Knight Foundation).
Tickets and sponsorship opportunities for the April 30th luncheon are available online HERE.
The annual luncheon will feature Mayor Mike Duggan as well as a keynote address, "Cities for all: the role of sustainable mobility," from Gil Penalosa, creator and founder 8-80 Cities. This event will be emceed by WDET 101.9 FM's Sandra Svoboda.
For interviews, hi-res photos and renderings, etc. please contact Eve R. Doster at bluemarketingandcommunications@gmail.com or 313-331-7939 ext. 304.
Thanks to our sponsors: Stroh Companies, Belle Isle Conservancy, Detroit Economic Growth Corporation (DEGC), Downtown Detroit Partnership (DDP), Pewabic, Invest Detroit and others.
# # #