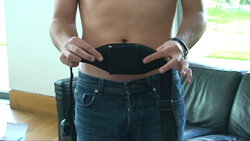 Dr. Allen's Device works naturally by improving blood circulation in the pelvic area, relieving LUTS gradually.
London, GB (PRWEB) June 23, 2014
LUTS is most common in aging men that usually relates to enlarged prostate and in young men these symptoms may be sign of chronic prostatitis. These both conditions doctors try to treat in the similar way, by using risky medications, alpha-blocking agents or/and 5-alpha-reductase inhibitors, and on the later stages different surgeries. However, as has been reported by the Medwire-News, LUTS may not be caused by BPH and chronic prostatitis, especially in middle age men, therefore the alternative natural treatment option of LUTS with Dr. Allen's Device must be used in the first place, Fine Treatment reveals.
According to the article, "Urodynamic study clinically useful in young men with LUTS', in the Medwire-News, dated 09 June 2014, the researchers remark that chronic LUTS in young men are not uncommon yet have received little scientific attention, and proper diagnosis and management can be challenging. Korean researchers say that urodynamic studies are useful for aiding diagnosis and treatment decisions in young men with chronic lower urinary tract symptoms (LUTS) but without symptoms suggestive of chronic prostatitis."
Another article published in The World Journal of Urology in April, 2014, "Urodynamic characterization of lower urinary tract symptoms in men less than 40 years of age, states that LUTS in young men are becoming a more recognized urologic issue that can arise from many causes, each with their own management strategy."
Thus, the routine prescription of drugs or surgeries for men with LUTS is unacceptable. The alternative safe treatment options must be used in the first place, including Dr. Allen's Device for Prostate Treatment. In contrast to antibiotics medications and surgeries, therapeutic Dr. Allen's Device eases LUTS helping men to recover from chronic prostatitis and BPH naturally.
Please watch the an explanatory video, where The Oxford Innovation Centre has interviewed a patient who explains how he used to suffer before opting for Dr. Allen's device, which has eased the disturbing symptoms of prostatitis naturally: http://www.youtube.com/watch?v=Sx1xfwwA5KI. Another video shows an interview with a man who has reversed prostate enlargement with Dr. Allen's Device: http://www.youtube.com/watch?v=V5xidswhxJM.
"The information on LUTS explains that drugs, especially over a prolonged period of time, and any surgery must be prescribed with extreme caution," says Dr. Simon Allen. "Dr. Allen's Device works naturally and by improving blood circulation in the pelvic area relieving LUTS gradually."
For details, please visit Fine Treatment at http://finetreatment.com/chronic-prostatitis-cpps-treatment/.
About Dr. Simon Allen and Fine Treatment:
Dr. Simon Allen, MD, PhD, Academician, member of the ATA, is a highly experienced medical professional. He specializes in internal medicine. He has treated a wide range of chronic diseases, including patients after a heart attack, with kidneys problems, including kidney stones disease, prostate and spine conditions, as well as metabolic disorders. Fine Treatment supports global customer outreach, and ensures international availability of Dr. Allen's Devices for the treatment of chronic prostatitis and BPH, coronary heart disease, for dissolving kidney stones, as well as for easing headaches, dizziness, and relieving lower back pain and sciatica.