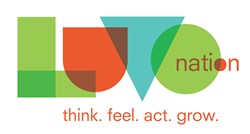 Rochester, New York (PRWEB) October 15, 2013
Understanding that positive behavioral change is the best defense against the most serious issues affecting kids today, Luvo Nation's founder Dave Calus created programs to address four major areas:
1. Luvo SMART – Individual Learning Assistance
2. Luvo COURAGE – Bullying Prevention
3. Luvo PLAY – Health and Fitness
4. Luvo FOOD – Childhood Obesity Prevention
Luvo COURAGE – Bullying Prevention
Recognizing that in order for kids to learn – kids have to feel safe, Luvo Nation founder Dave Calus focused first on the huge issue of Bullying. Calus recognized that although schools have a Zero Tolerance Policy in place, few have the programs to effectively defuse and handle a bullying situation in a manner that was satisfactory to all parties involved (bully, victim and their parents). Addressing this critical issue first, Calus created The Luvo Bench™ program (http://www.luvonation.org/programs/luvo-courage). Calus calls this program "…a unique solution to the bullying epidemic in the U.S. As a concerned parent, I want to know what the remediation steps are, if my child is bullied. The Luvo Bench™ is a solution that could satisfy any Zero Tolerance Policy and possibly any DASA (Dignity for All Students Act) regulation in NYS schools. The Luvo Bench™ program will help the victim feel less like a victim, and give them the inner strength, confidence and tools to combat repeat bullying, future depression and anxiety. All of which make for positive behavioral changes."
Rescuing a generation of lost children.
Children face an epidemic of depression and anxiety, with the end result being a generation of kids that will grow into adults unable to cope with every-day pressures of life. While the media and pop-culture make all aware that our most precious resource, children, are suffering, most parents feel helpless in combating these complex issues. Children face childhood issues like bullying, obesity, depression, anxiety and more. One out of three kids are overweight or obese. US rankings in Math and Science don't even make the top 20 in the world. Test scores are down, narcissism is up, addictions are abundant and the global economy is more competitive than ever, and children are paying the price.
Luvo's goal is to give children the courage, confidence, compassion and creativity to understand what their individual and where their unique talents can be expressed. The goal is to help kids find their passions and become successful leaders in the future. As a society, isn't that what we all want?
Development efforts are underway on three more internal programs - Luvo SMART, Luvo FOOD and Luvo PLAY. Luvo Nation Inc. is actively seeking partner organizations with missions and goals similar to its own and with a focus on children.
Calus extends an invitation to community leaders, school administrators, corporations, foundations and parents to learn more about Luvo Nation Inc. - and be part of the solution, "Join me in this movement. Consider creating a personal legacy that has a lasting impact on children: become a Founding Partner in Luvo Nation and combat these issue affecting us all."
Luvo Nation Inc. (http://www.luvonation.org) an independent 501c3 nonprofit created to provide solutions to improve the mental, emotional, physical growth and personal development in children.
Contact:
Dave Calus
75 Barrett Dr. #1076
Webster, NY 14580
585-317-1327
dave(at)luvonation(dot)org
http://www.luvonation.org