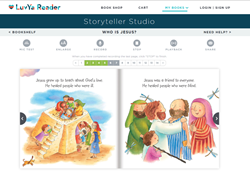 Steve Gurasich of GSD&M & Steve Martin of SicolaMartin help create faith-based software start-up, transitioning them from successful days of ad agency direction to a season of significance.
Austin, TX (PRWEB) December 07, 2015
Three powerful businessmen have transitioned from their successful days of ad agency direction and high tech development, into a season of significance. And it all started with a photo.
Walt Petticrew lost his father and his son within months of each other. While grieving, Walt came across a picture of his father reading to his son, Arthur.
That photo so beautifully captured the precious bond that reading aloud had created in his family. Walt's father lived out of state from them, so visits were limited.
He began to wonder how he could help others make the most of their time together and create meaningful connections through storytelling.
Realizing that tens of millions of grandparents lived far from grandkids they love, Walt recruited Steve Gurasich and Steve Martin to create a solution. Having founded GSD&M and SicolaMartin (now Y&R Austin), these two agency executives were ready for a venture that had "real meaning".
Together, they launched LuvYa Reader. LuvYa Reader is a website that lets Grandparents and other family members select a children's storybook from the Book Shop, record their voice reading aloud in the online "studio" and email it to children.
"Kids light up when they receive these adorable eBooks. They instantly recognize the voice of the narrator as they watch the pages turn," Walt explains. "We believe this tool could also be used by travelling parents, deployed servicemen and other distant relatives to bond with children from anywhere."
An app for iPads was also developed and launched the week of Thanksgiving 2015. The LuvYa Reader library currently has more than 100 children's eBooks, devotions and prayers provided by publishing partner, Anno Domini. An additional 200-300 books will be added throughout 2016.
"This mission is one of the greatest ones I've taken on in my life," Steve Martin shares.
Gurasich agrees, "Sharing special moments with my grandchildren (and seeing them smile) continues to be one of the most important ways I spend my time."
Hope remains high that this start-up will be a fun new way for generations to meaningfully connect and create lasting legacies.