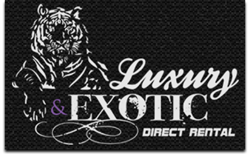 'Entering the online world was a no-brainer,' said Owner Sahd 'Tiger' Abusaed. 'There are 100 billion Google searches every month, and we want to be constantly accessible and connected to our customers.'
Houston (PRWEB) December 24, 2013
Luxury & Exotic Direct Rentals recently released a new website to expand its reach into the online community. Search engine optimization and social media integration drove the creation of the site, which will allow the car rental company to connect more easily with current and future customers.
"Entering the online world was a no-brainer," said Owner Sahd "Tiger" Abusaed. "There are 100 billion Google searches every month, and we want to be constantly accessible and connected to our customers."
New accounts on Facebook, Google+, and Twitter allow customers to interact with Luxury & Exotic Direct Rentals on the Web. The website also features a convenient online reservation system for real-time availability and pricing on the rental cars.
The company provides high-end luxury and exotic car rentals in Houston, The Woodlands, Spring, and nearby Texas areas. Its rental fleet boasts world-class sedans and SUVs, as well as exotic sports cars and luxury passenger vans.
Luxury & Exotic Direct Rentals presents a unique way for both travelers and locals to experience Houston — from behind the wheel of elite vehicle makes like Rolls-Royce, Mercedes-Benz, Bentley, Lamborghini, Ferrari, and many more. Luxury car rentals are available for weddings, concerts, anniversaries, birthdays, business outings, corporate functions, and other special events.
Chauffeur services are available for customers as an additional way to enhance the exotic car rental experience. The company also provides transportation to and from airports in the Houston area.
The Web Guys, an Indianapolis-based firm, spearheaded the design and search marketing efforts for the new site. The Web Guys provide companies across the United States with web design and search engine optimization services.
About Luxury & Exotic Direct Rentals
Luxury & Exotic Direct Rentals provides Houston, Spring, The Woodlands, and adjacent Texas areas with luxury car rentals, stylish SUVs, high-end passenger vans, and exotic sports car rentals for any occasion. The company also provides chauffeured transportation and prompt service to and from Houston's airports. Customers interested in a luxury vehicle rental can visit the company website or call (832) 457-5000.
Sources:
http://www.google.com/think/articles/meaning-of-search.html