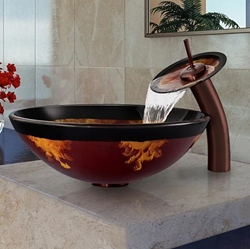 Faucets with a really ornate look and feel will cost a little more, but a luxury bathroom really isn't complete without one.
(PRWEB) December 12, 2013
HomeThangs.com – the Online Home Improvement Store has made their goal to deliver the right product to the consumer. With that in mind, shopping and home design tips, as well as special product selections are being introduced.
Choosing a new bathroom faucet is one of the easiest features to overlook in a major bathroom remodel. It's a seemingly small item that certainly doesn't make the list of desirable luxury features, and is therefore often relegated to the "necessity" list. But faucets are among the most used items in the bathroom, and HomeThangs.com has introduced a guide to why it's worth splurging on distinct, designer faucets to bring together a bathroom design.
The classic cross handled faucet is probably one of the most iconic types of faucets, and immediately evokes an old fashioned, cottage style bathroom. Often done in a simple chrome finish with porcelain accents on the handles, these are more charming than fancy, but are the perfect way to lend authenticity to a turn of the century bathroom. Paired with a petite pedestal sink, the look is picture perfect and totally timeless.
For a slightly more sophisticated old world feel, look for faucets with a matte finish – like oil rubbed bronze or satin nickel – that have the same looped and curved, tooled appearance, but that replace the cross handles with lever style handles, or have a column spout or bridge style installation. These have a touch of French country sophistication and are perfect for a more upscale period style bathroom.
Faucets with a really ornate look and feel will cost a little more, but a luxury bathroom really isn't complete without one. A serpentine, floral, or otherwise intricately detailed faucet will unify the luxury elements of a bathroom, from the marble flooring and tile to the Victorian soaking tub, walk in shower, and beautiful woodwork.
For a slightly more modern bathroom, choosing a nice faucet can be even more important. Modern bathrooms are all about sleek simplicity, and while a conventional bathroom faucet will get the job done, it isn't going to be pretty. Choosing an elegant bathroom faucet is an easy way to lend polish and sophistication to the space. A faucet with long, lever style handles will look great and be easy to use and keep clean.
For a slightly more modern look, always stick with chrome, but don't settle for a generic chrome faucet – look for a design that's really out there. Vessel sink faucets that replace the conventional handle with a joystick and wall mounted waterfall style faucets are among the more unique, but when it comes to modern faucets, the sky is really the limit in terms of innovation. Simple doesn't have to mean boring, and even just opting for a less conventional faucet handle can give a bathroom sink area a sleek, futuristic look.
For a bathroom faucet that will be a real showstopper in a modern bathroom, look for something even more out there. Bathroom faucets that come paired with a glass vessel sink make a great statement piece. Both the sink and the faucet are made of the same bright, colorful, patterned material and have a similar scooped shape that turns the faucet into a lovely, abstract waterfall.
To see more beautiful, stylish faucets, check out the full article here.
HomeThangs.com is not only a home improvement superstore, it also provides expert design tips and a comprehensive shopping guide, taking the ideas from professional interior designers, and offering tips to the consumers on how to pick the products to best suit their needs.