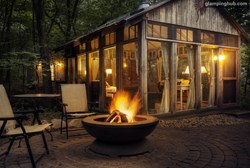 (PRWEB) September 27, 2013
Since 2005, when the term "glamping" was coined, this burgeoning niche in the global travel market has been widely publicized as an outlet for wealthy adventurers looking for ultra-posh living in the wild. But although this is not an incorrect assumption, what consumers may not know is that the vast majority of glamping sites offer lodging that is both high quality and wallet-friendly. Glamping Hub, the premier booking platform for luxury camping and alternative accommodations, can now confirm that more than 50% of its glamping sites offer per-night rates that are under $150, which gives the budding travel startup the largest budget-friendly glamping inventory in the world.
Glamping Hub' mission is to provide the best inventory of glamping sites worldwide, and part of that undertaking involves offering products and services that are accessible to virtually anyone interested in this form of travel, in terms of landscape, style of lodging, variety of amenities, and price. Rising fuel prices have significantly increased the cost of travel over the past several years, so it is imperative for lodging enterprises to offer a wide range of prices, while still maintaining the highest quality products and services.
The other piece of the pie is that the general populace is still getting used to the idea of luxury camping as an alternative way to experience nature. The cost of traditional camping is, of course, extremely low, so many travelers transitioning from roughing-it to something a bit more refined are not ready or willing to take the leap to wine service, soaking tubs and heated floors. Offering competitive pricing helps to break down that barrier and widen the consumer base.
"Many of our glamping site owners want to provide that middle road for glampers," says Ruben Martinez, Co-Founder of Glamping Hub. He communicates directly with owners about their partnership with Glamping Hub and their experiences in the industry. "Luxury camping is about introducing new forms of travel and accommodations to the world…to inspire people to try new things. So it absolutely has to be accessible."
With more than 50% of its rapidly growing global inventory under $150 per night, Glamping Hub offers a solution to travelers looking for a unique experience with high-quality services at a reasonable price. The dollar-conscious collection of sites also covers almost every type of alternative accommodation, including yurts, tipis, geodesic domes, tree houses, cabins, luxury tents, and caravans, so travelers that are mindful of the depth of their pockets can be choosy and still have a one-of-a-kind travel experience.
About Glamping Hub
Launched in 2012, Glamping Hub is the world's first online booking platform offering luxury camping and alternative accommodations on all 5 continents. With over 600 unique glamping sites in 57 countries, and a vast range of prices and amenities, Glamping Hub connects travelers with nature in a whole new way, providing off-the-grid, sustainable and truly one-of-a-kind lodging and outdoor adventure in some of the most breathtaking landscapes on earth. For more information, please visit glampinghub.com.